How global and local collaboration drives real-world scientific impact
Extraordinary findings about the plant pathogen Sclerotina sclerotiorum were possible thanks to global collaboration and funding, says Prof Renuka Attanayake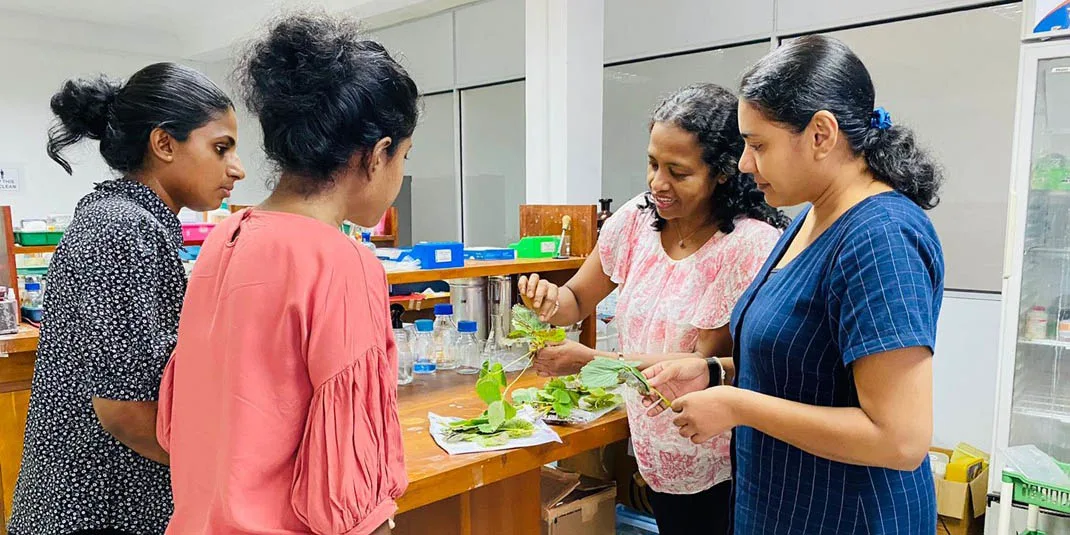 Childhood experience of the hardships faced by farmers has inspired Prof Renuka Attanayake's pursuit of groundbreaking research into plant pathogens.
Renuka, of the University of Kelaniya(opens in new tab/window), Sri Lanka, is a plant pathologist specializing in crop disease identification and management using molecular biological tools and techniques. She has published numerous articles and won prestigious awards, most recently the 2023 OWSD-Elsevier Foundation Award for Women Scientists in the Developing World.
Her desire to support the livelihood of farmers, as well as contributing to agricultural productivity, stems from her upbringing. Her father was a rice farmer who managed to cultivate a paddy field in a new area from nothing. His efforts eventually led to him building his own rice mill and processing factory.
"I witnessed how hard work paid off for him," Renuka said, "and how important it is to keep working to achieve something."
Renuka also gained vital insights into the practicalities of farming. This included the haphazard application of chemicals and fertilizers. She explained:
I saw that, regardless of knowing the real disease or cause of a problem, that farmers would often just apply any chemical. I wanted to go into agriculture to help the farming industry and seeing this gave me an interest in pathology specifically.
With a passion and aptitude for science, Renuka was accepted at the University of Kelaniya(opens in new tab/window). "University is free in Sri Lanka," she noted. "This means getting a place is very competitive. You need extremely high grades as well as passing entrance exams."
She excelled throughout her studies and earned a BSc in Biology (majoring in Botany) in 2002, achieving the highest GPA among the honors degree students. After this, she began work as a lecturer, with her position absorbed into the University of Kelaniya in 2006.
With a desire to experience scientific practice in another country, Renuka approached professors from around the world and subsequently achieved a scholarship to study at Washington State University(opens in new tab/window) (WSU) in the United States. Here, she gained an MSc and then PhD in Plant Pathology under the supervision of Prof Weidong Chen(opens in new tab/window). She describes how life-changing this was for her career:
In Sri Lanka, we don't have access to the same technology as more scientifically advanced countries — for example, modern molecular biological tools, next-generation DNA sequencing technology. In science, if you have the technology and thinking power, you can do a lot more. This is why my time studying in America was so significant for me as a scientist. It transformed me into who I am today.
In 2013, Renuka returned to Sri Lanka. This opened both great opportunities and certain challenges:
There's a lot of scientific work that can be done in Sri Lanka, starting from the basics. But it can be frustrating working out how to get things done.
It became clear that improved funding would be a route forward. This soon became a reality when she received the JANE award from the American Phytopathological Society(opens in new tab/window). The funding was designated for scientists returning to developing countries to work on the potato pathogen Phytophthora infestans (late blight). It was of enormous importance for the research work:
Thanks to the funding, I could go on field visits, collect samples and get the chemicals needed. Because the award allowed freedom of how to direct spend, I could also hire a student and pay her a stipend.

---

Read the full article on Elsevier Connect: "How global and local collaboration drives real-world scientific impact", Milly Sell, 26 July 2023.