Her nutrition research is making an impact despite challenges in Middle East
"If you believe in the power of research and if you contribute to humanity, eventually your work will be seen and valued." — Haneen Dwaib, MPH, PhD, Chairwoman of Clinical Nutrition and Dietetics, Palestine Ahliya University; winner of a 2023 OWSD-Elsevier Foundation Award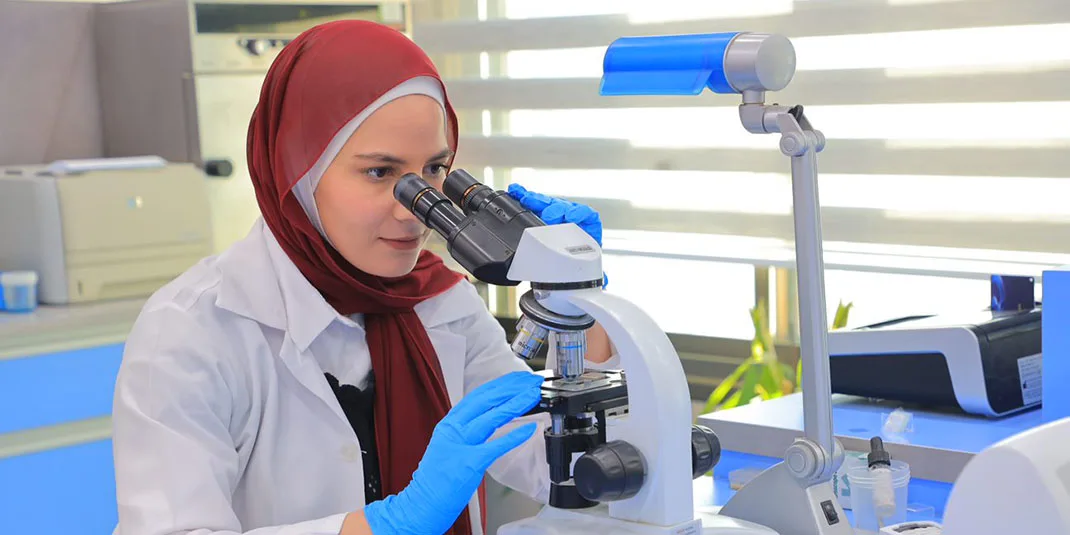 Like many researchers, Dr Haneen Dwaib(opens in new tab/window) wants to make a difference, and she's finding ways to do that despite the challenges she and her colleagues face.
Having done her PhD in Lebanon at the American University of Beirut(opens in new tab/window) and now conducting research in Palestine, Haneen is familiar with all the usual challenges of research — credible data, chasing funding, "publish-or-perish" attitudes — compounded by revolutions, occupation, escalating financial inflation, and of course a global pandemic.
She's also a major advocate of research from the Middle East and believes that the global research system undervalues its contributions: "Through all this in Lebanon and Palestine, we've managed to produce high quality, competitive research," she said. "But it can be challenging to have that research taken seriously because we don't have access to the same cutting-edge technology as Western researchers, so we need to find other ways to level up our game."
As Chairwoman of the Clinical Nutrition and Dietetics department at Palestine Ahliya University(opens in new tab/window), Haneen draws on her background in nutrition and public health to investigate dietary interventions, tackling obesity as a case of disguised hunger:
"I worked in Palestine the whole time I was doing my master's in both clinical and public health settings, and I really wanted to do translational research," she explained. "I wanted to advance interventional studies in nutrition in our region. We don't have the funds to use advanced technology, and we can't always afford long term research programs, so we look at other ways we can use research to address public health."
Award-winning research
Some of Haneen's colleagues do this through drug repurposing, mining data to identify drugs that have already been through clinical trials and which could be redeployed to tackle different health issues. Haneen's work took her in a different direction as she investigated data that could lead to safe, cheap and effective interventions. That work — which focused on studying the gut microbiota to find non-invasive early detection biomarkers of premature cardiovascular dysfunction and adipose tissue inflammation in pre-diabetic laboratory rats — led to her winning a 2023 OWSD-Elsevier Foundation Award for Early-Career Women Scientists in the Developing World.
First awarded in 2013, the award is given in partnership by OWSD (Organization for Women in Science in the Developing World)(opens in new tab/window) and the Elsevier Foundation(opens in new tab/window). OWSD convenes a panel of distinguished scientists to select the winners, and the Foundation awards a cash prize for each winner of USD $5,000, as well as an all-expenses-paid trip to attend a major international conference to give them visibility and vital networking opportunities — this time the 2024 Global Food Security conference(opens in new tab/window). The winners will also have the opportunity to publish their work in STAR Protocols(opens in new tab/window), an open access, peer-reviewed journal from Cell Press(opens in new tab/window) the publishes structured, transparent, accessible and repeatable step-by-step experimental and computational protocols from all areas of life, health, earth and physical sciences.
---
Read the full article on Elsevier Connect: "Her nutrition research is making an impact despite challenges in Middle East", Ian Evans, 13 July 2023.