Working towards inclusive health

Sansum Diabetes Research Institute: Latino Diabetes Community Scientists
"People with diabetes vary psychosocially, not just biologically, and this should be reflected in the development of new technologies and approaches to the delivery of diabetes care". (
Kerr & Glantz
, 2020)
At present, U.S. Hispanic/Latino adults have a greater burden of diabetes and associated complications compared to the general population. The reasons for this disproportionate impact are likely to be influenced by challenges related to access to care, low rates of research participation, the social determinants of health, and low health literacy. To address diabetes disparities and democratize critical knowledge, the project aims to train local Latino/Hispanic Community Scientists trained in clinical research methods and the use of wearable technologies to (a) collect real-world data on factors (such as blood glucose levels, physical activity, sleep, etc.) related to the risk of progression of type 2 diabetes (T2D) with the emphasis on social determinants of health and (b) overcome existing health literacy barriers to increase access to and understanding of this new knowledge.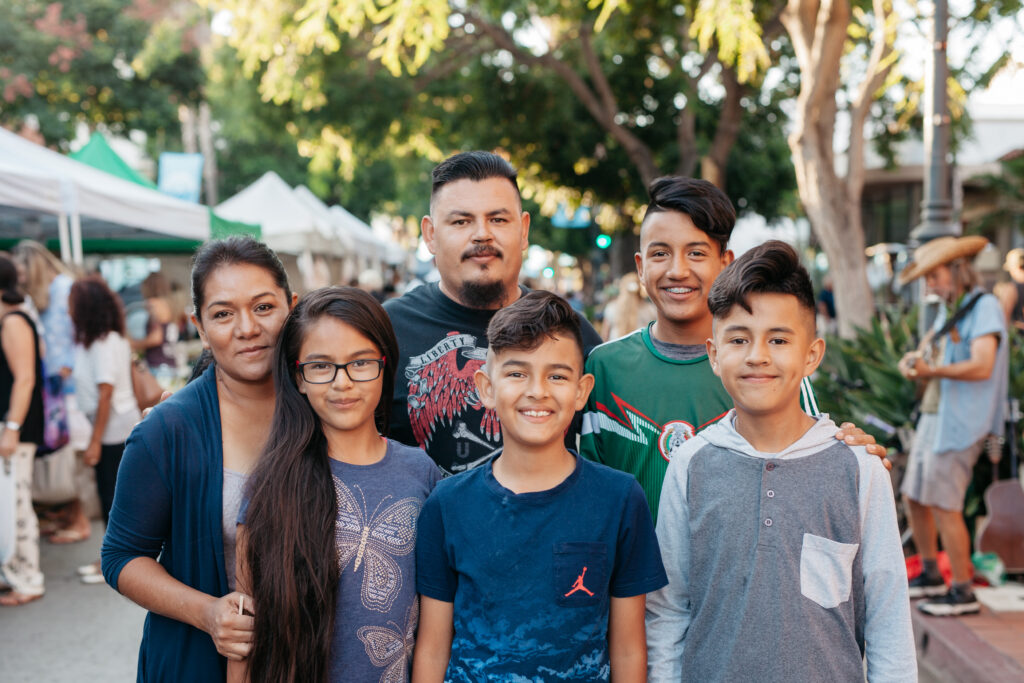 In 2020, the U.S. Hispanic/Latino community has been also been severely and disproportionately impacted by COVID-19, and the Sansum Diabetes Research Institute (SDRI) has been at the forefront of developing new strategies to inform and educate families living with diabetes to reduce their health risk – including the publication of dedicated articles in English and Spanish and a bilingual helpline for telephone and text queries.
Democratizing knowledge
Outreach to the Hispanic/Latino communities in 2020 has included the completion of the Mil Familias pilot program that saw 107 adults enrolled, and the establishment of the first cohort with 200 individuals. In 2021, SDRI aims to expand roles and skills of Hispanic/Latino Community Scientists, as well as scale the new Farming for Life program, to explore the "food as medicine" concept in the context of type 2 diabetes and food insecurity.
Read more from the SSRI team in a recent Comment on The Lancet Diabetes & Endocrinology: "Diabetes, like COVID-19, is a wicked problem" (October 01, 2020).
National League of Nursing – HBCU Innovation in Technology Excellence program

While many nurse educators come to higher education as experts in the art and science of nursing, they may not always be experts in the art and science of teaching and learning. Innovation in technology and teaching are increasingly becoming an essential tool for nurse educators in preparing students to provide safe and quality care in diverse healthcare settings. Technology today provides opportunities to support novice nurses transition through their programs of study into professional practice.
The HBCU Innovation in Technology Excellence program provides clinical preceptors and nursing faculty in HBCUs with the opportunity to enhance their coaching skills and facilitate student active learning through innovative technology. The National League for Nursing's program focuses on five HBCUs: Hampton University, North Carolina A&T, Tuskegee University, North Carolina Central University and Winston Salem State University – including a total of 36 faculty members and over 400 students.
This program has in that sense focused on five HBCU's, namely: Hampton University; North Carolina A&T; Tuskegee University; North Carolina Central University and; Winston Salem State University. It included 36 faculty members and over 400 students.
Learning as Meaning Making 
As part of this program, the National League for Nursing developed the online asynchronous course 'Coaching for Excellence'. The course was developed to address the main gaps found in the literature in teaching and learning: it provides video challenges as well as teach important dialogue techniques, fostering the development of critical thinking.
To track outcomes, the program monitors quantitative metrics (e.g. faculty's performance across the video challenges; post-test perceptions), and uses "The Seven Best Practices", a tool developed for teaching in higher education capturing both faculty and learner perceptions on their learning encounters.
About the NLN 
Founded in 1893 as the American Society of Superintendents of Training Schools for Nurses, the National League for Nursing was the first nursing organization in the United States. The NLN is the only national organization that represents all levels of nursing education, from licensed practical nurses, to registered nurses, to advanced nurse practitioners to PhD prepared researchers and teachers. It offers faculty development programs, networking opportunities, testing and assessment, and public policy initiatives to its 40,000 individual faculty members and 1,210 member schools.
About the Sansum Diabetes Research Institute 
The Sansum Diabetes Research Institute was founded in 1944 by Dr. William D. Sansum, the first physician in the U.S. to both produce and administer life-saving insulin. Today the Institute is a world leader in research and innovation, education and care for adults and children living with all forms of diabetes. Current areas of focus are: type 2 diabetes in minorities (www.MilFamilias.com) and (www.LatinoDiabetes.sansum.org), digital health, artificial pancreas development, diabetes in pregnancy, and diabetes and exercise (www.excarbs.sansum.org).