Celebrating women in science
OWSD-Elsevier Foundation Awards for Early-Career Women Scientists in the Developing World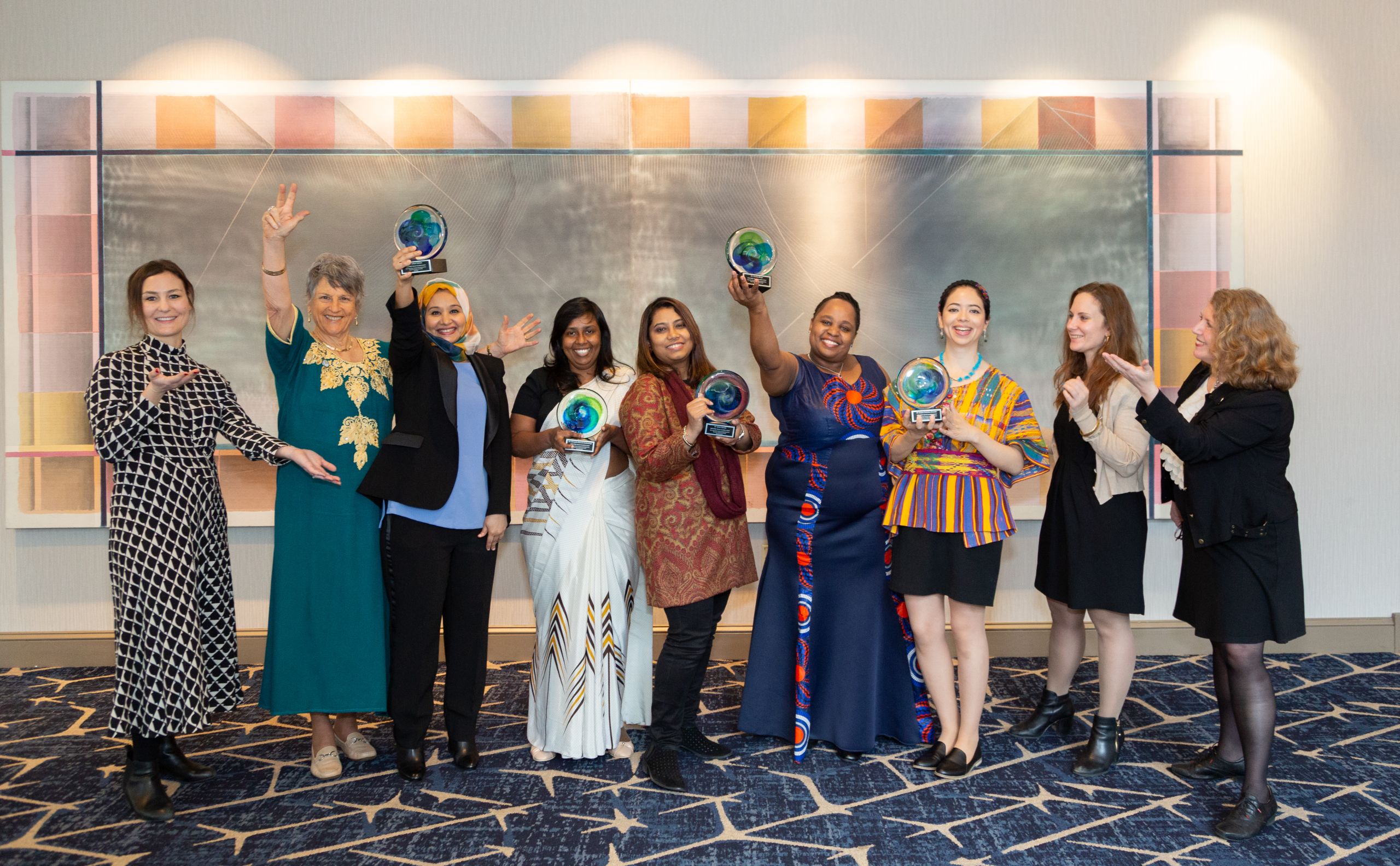 The winners and organizing team of the 2020 OWSD-Elsevier Foundation Award for Women Scientists in the Developing World (Photo by Alison Bert)
The winners and organizing team of the 2020 OWSD-Elsevier Foundation Award for Women Scientists in the Developing World (Photo by Alison Bert)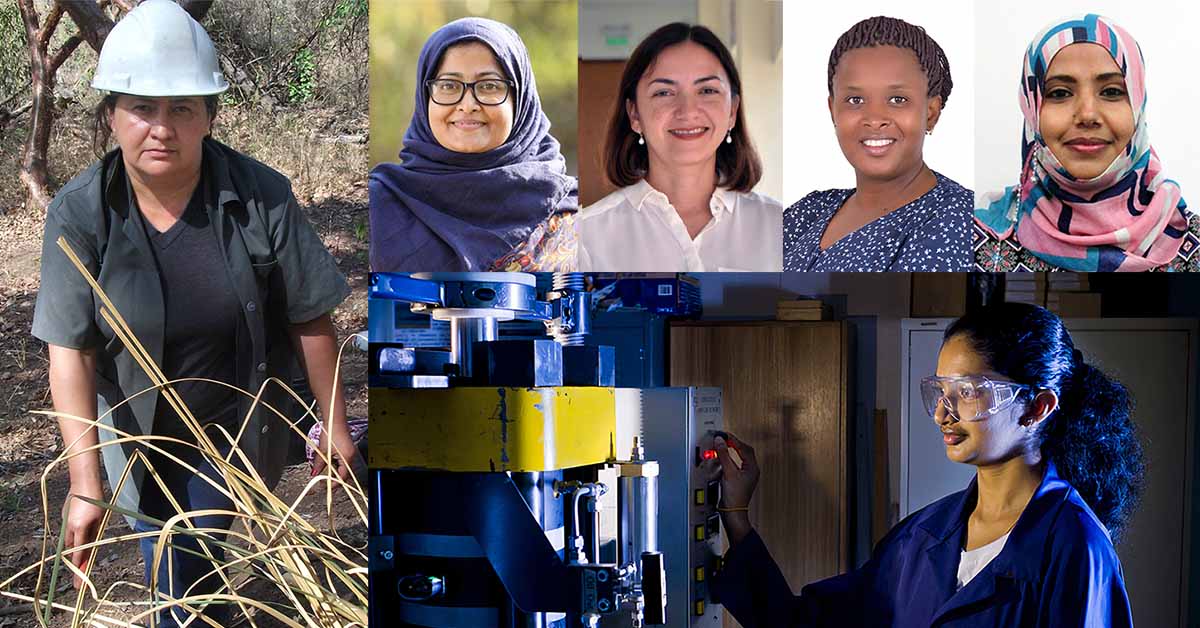 Recognition and visibility can make a world of difference to scientists just starting out. Since 2012 the OWSD-Elsevier Foundation Awards for Early-Career Women Scientists in the Developing World celebrate the achievements of researchers who have made significant contributions to the advancement of scientific knowledge. The program represents a longstanding partnership between the Organization for Women in Science for the Developing World (OWSD) and the Elsevier Foundation.
Each year five winners are selected from the regions of: Latin America and the Caribbean; East and South-East Asia and the Pacific; Central and South Asia; Sub-Saharan Africa.

Succeeding in the competitive world of science is challenging under the best of circumstances. But women scientists in countries with scarce resources and competing cultural expectations face significant additional obstacles as they strive to excel at careers in science and contribute to the communities they live in.

Including the 2022 winners, the Awards have celebrated the research excellence of 51 early-career women scientists from +20 developing countries.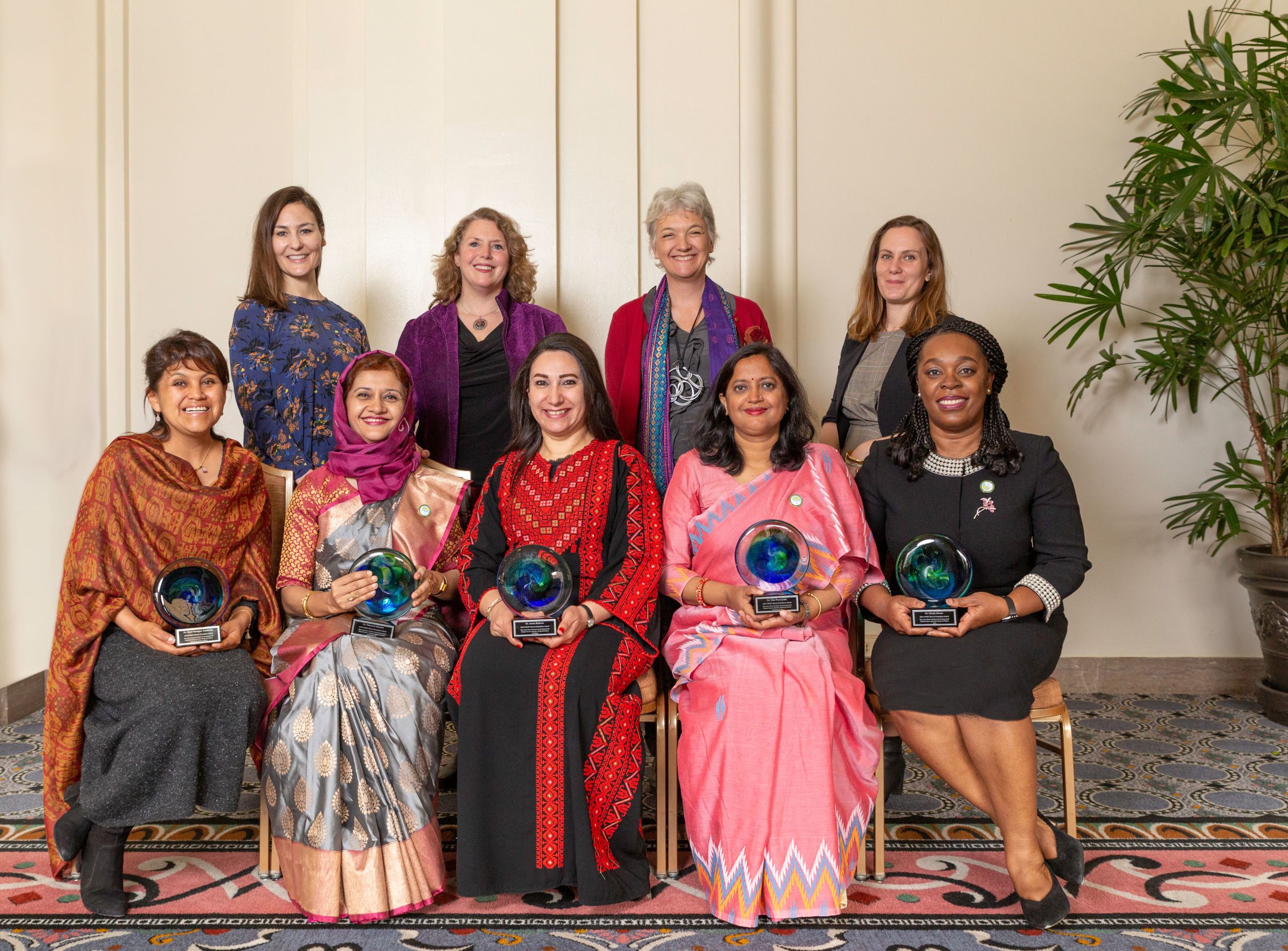 The winners pose with their awards after the ceremony with the organizing team (from left down): Narel Paniagua-Zambrana, PhD (Bolivia); Tabassum Mumtaz, PhD (Bangladesh); Amira Shaheen, PhD (Palestine); Tista Prasal Joshi, PhD (Nepal); and Uduak Okomo, PhD (The Gambia). (Photo by Alison Bert)
Prizes are awarded annually on a rotating basis among the disciplines of Biological Sciences, Engineering Sciences and Physical Sciences. Each of the five winners present their papers at the annual conference of the American Association for the Advancement of Science (AAAS), which is attended by leading scientists, engineers, educators and policymakers from around the world.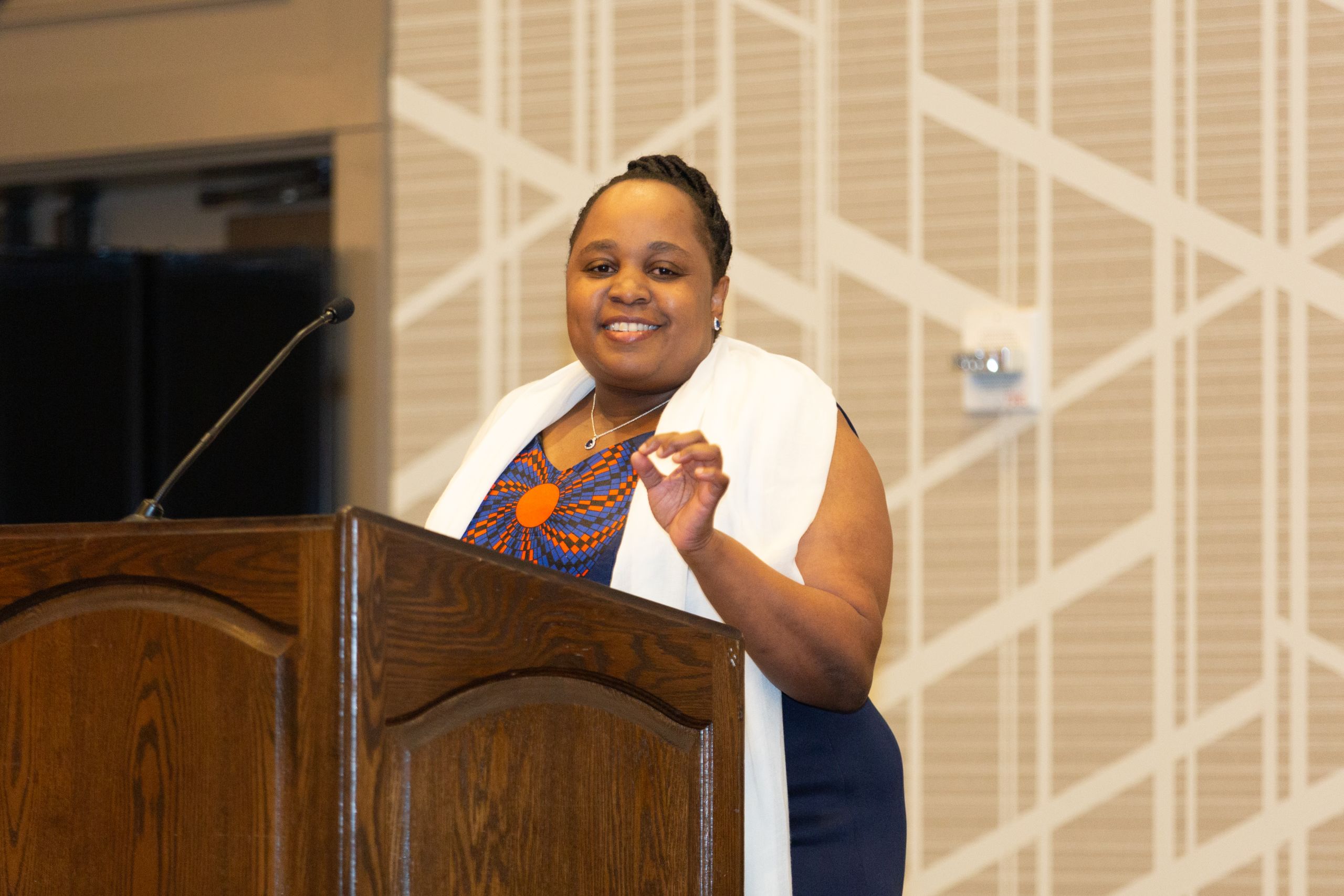 Dr. Chao Mbogo talks about her research at the award ceremony. (Photo by Alison Bert)
Dr. Chao Mbogo talks about her research at the award ceremony. (Photo by Alison Bert)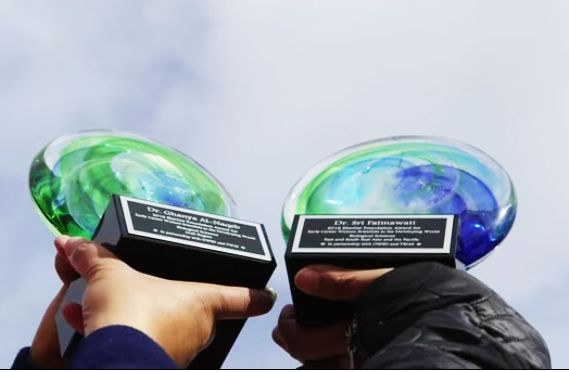 Awarding women scientists means not only recognizing their impressive work but empowering them to be role models. In countries where more scientific expertise and gender equality in academia is in critical need, other young women can find this powerfully motivating. The fact that the majority of award winners are tackling UN Sustainable Development Goal challenges is even more inspiring.
The OWSD-Elsevier Foundation Award winners have been celebrated by their country's presidents and celebrated by local, national and international media. They have often gone on to receive other prestigious awards and research fellowships including L'OREAL-UNESCO For Women in Science Fellowships and the British Council Award.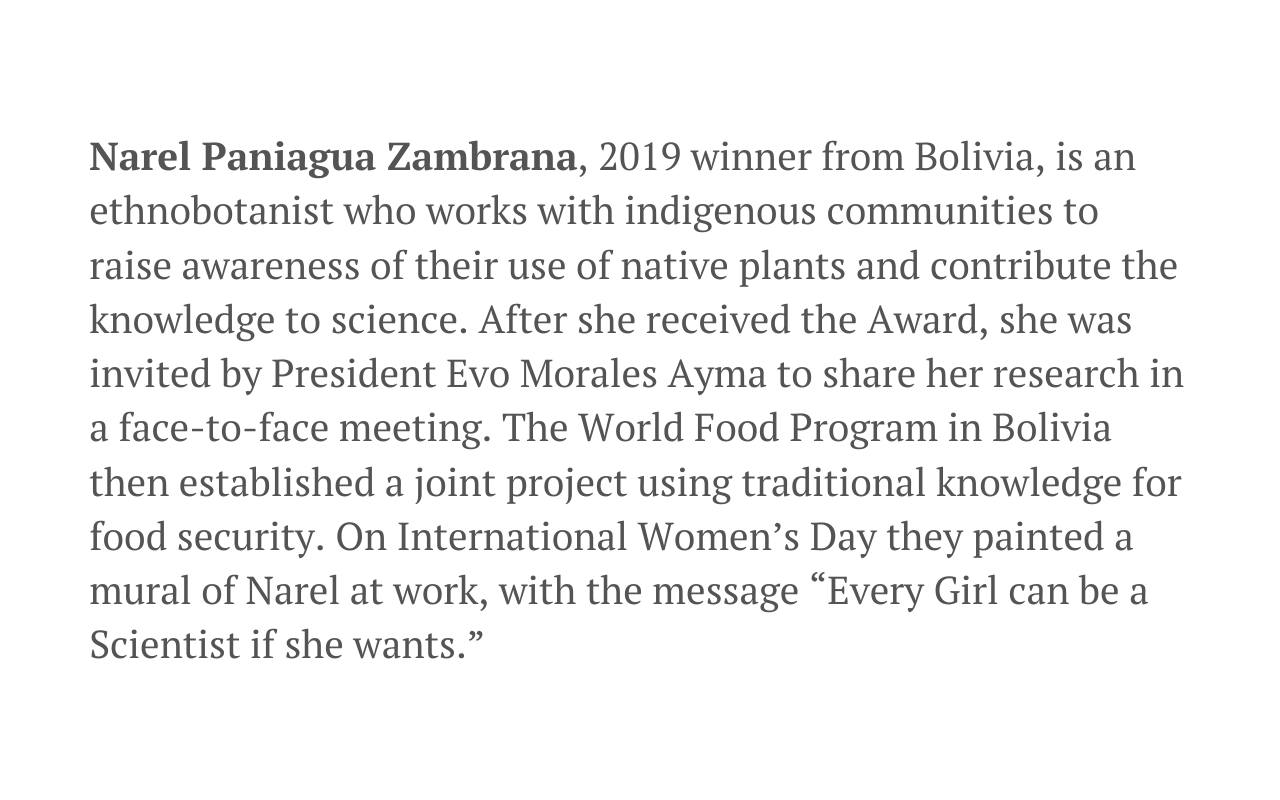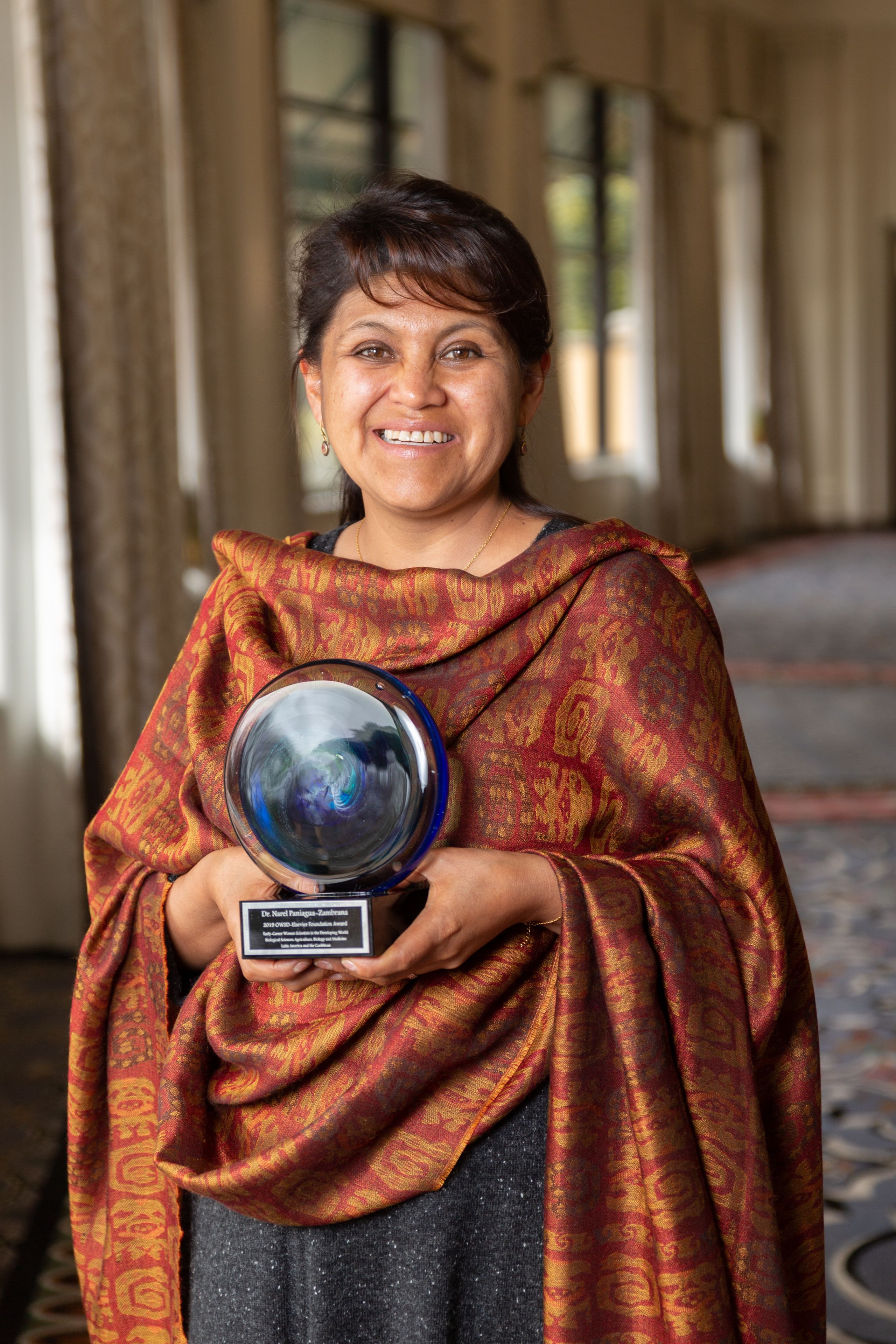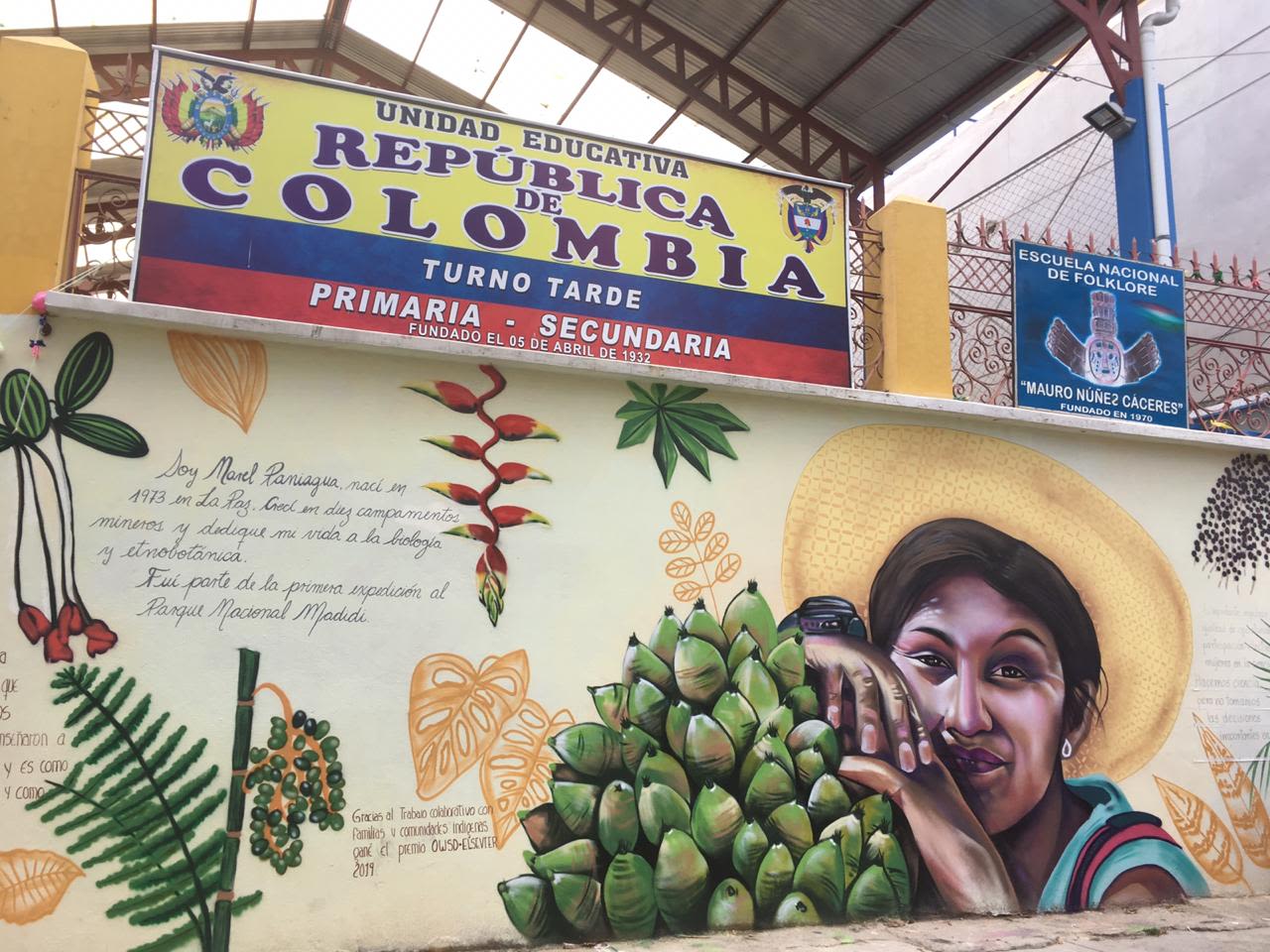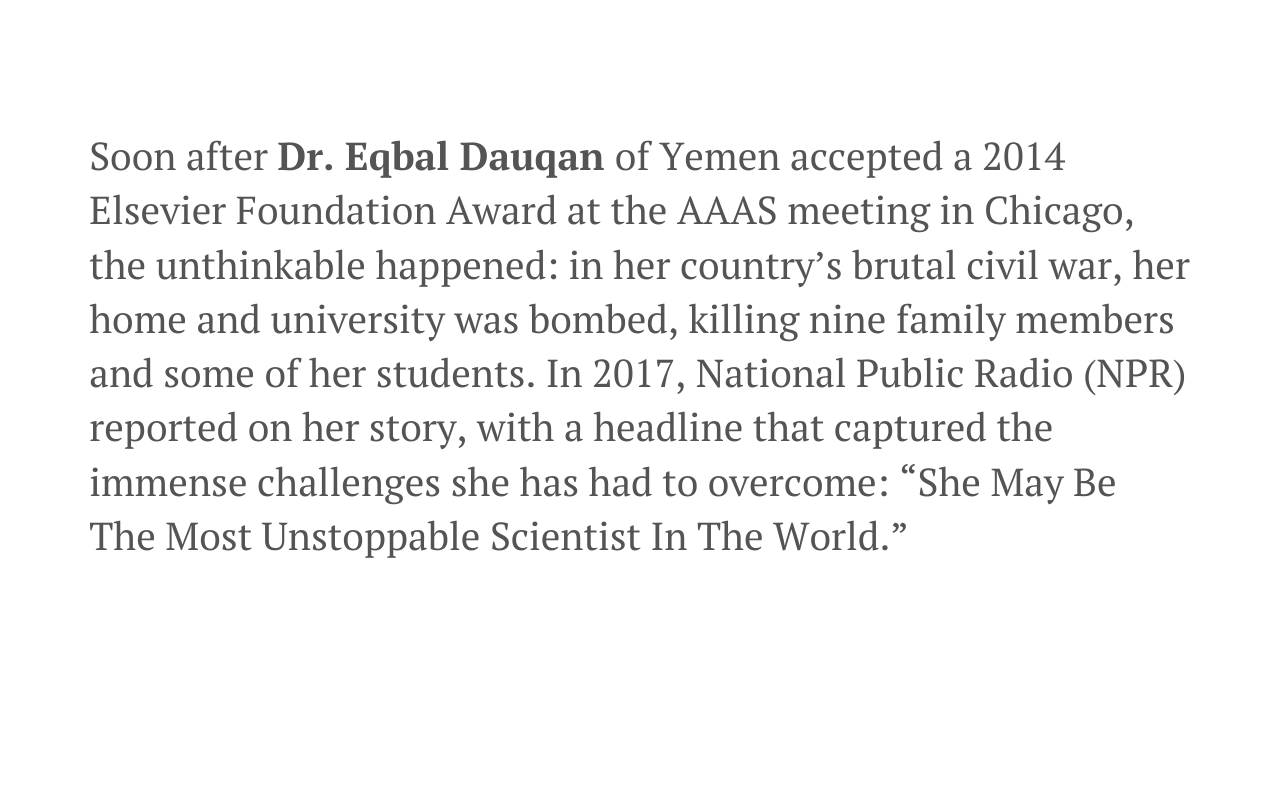 Dr. Eqbal Dauqan, 2014 winner talks about her research at the AAAS award ceremony.
Dr. Eqbal Dauqan, 2014 winner talks about her research at the AAAS award ceremony.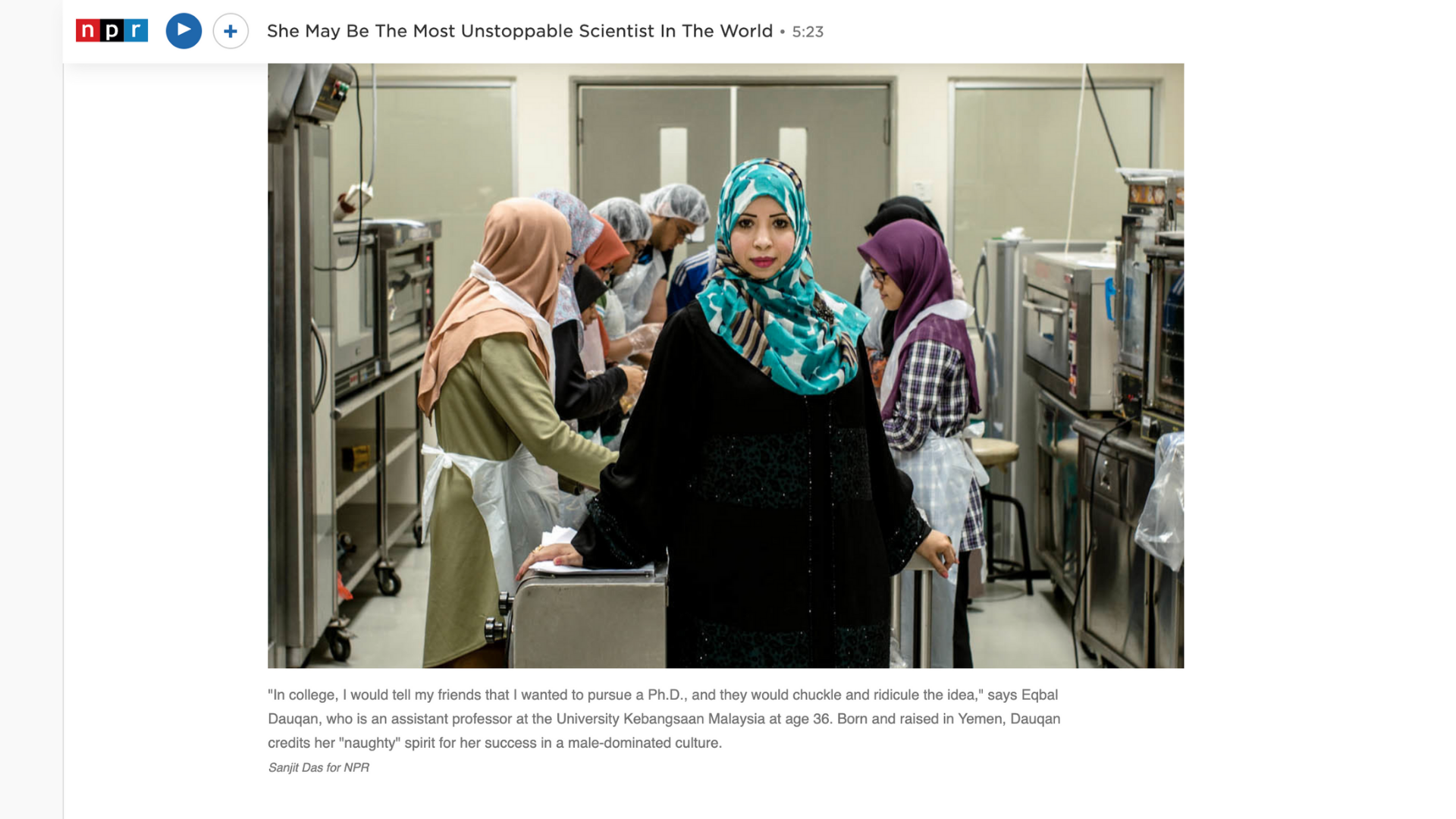 (Cppyright : Sanjit Das for NPR, 2017)
(Cppyright : Sanjit Das for NPR, 2017)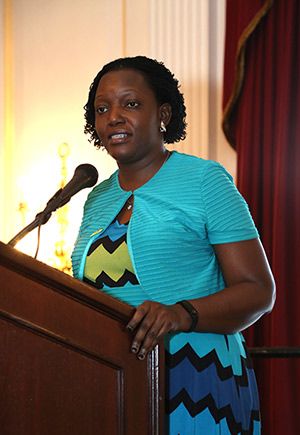 Dr. Etheldreda Nakimuli-Mpungu, 2016 winner, talks about her research at the AAAS award ceremony.
Dr. Etheldreda Nakimuli-Mpungu, 2016 winner, talks about her research at the AAAS award ceremony.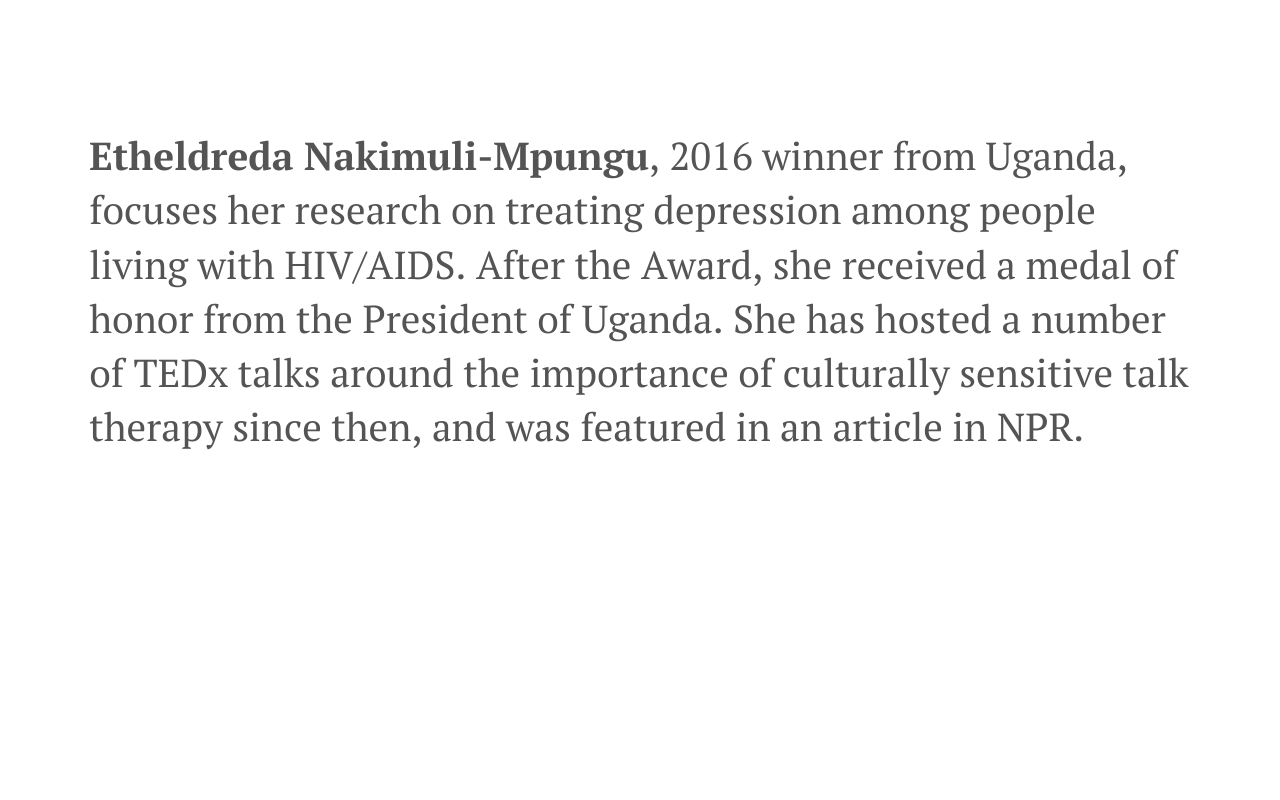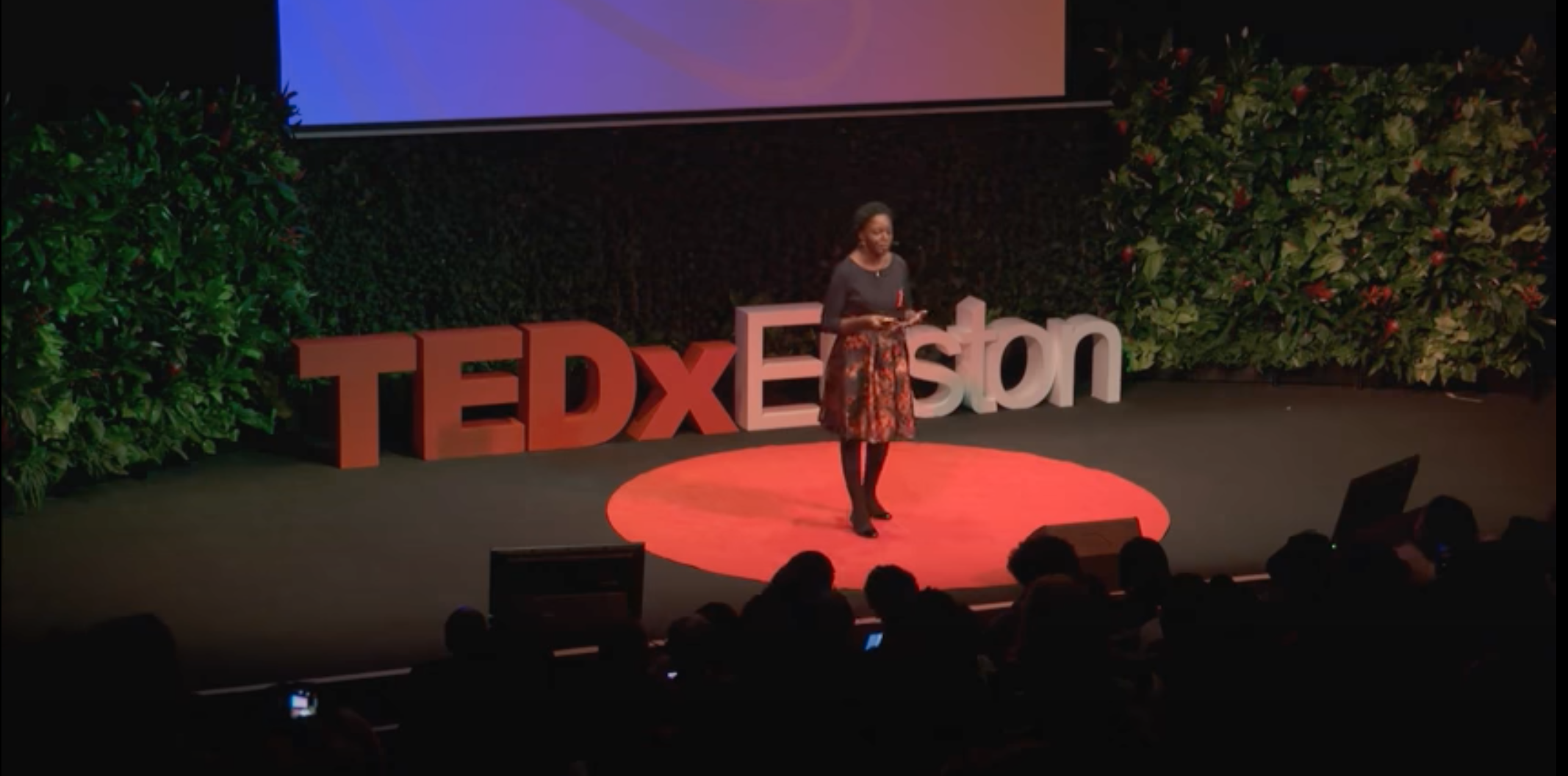 Item 1 of 9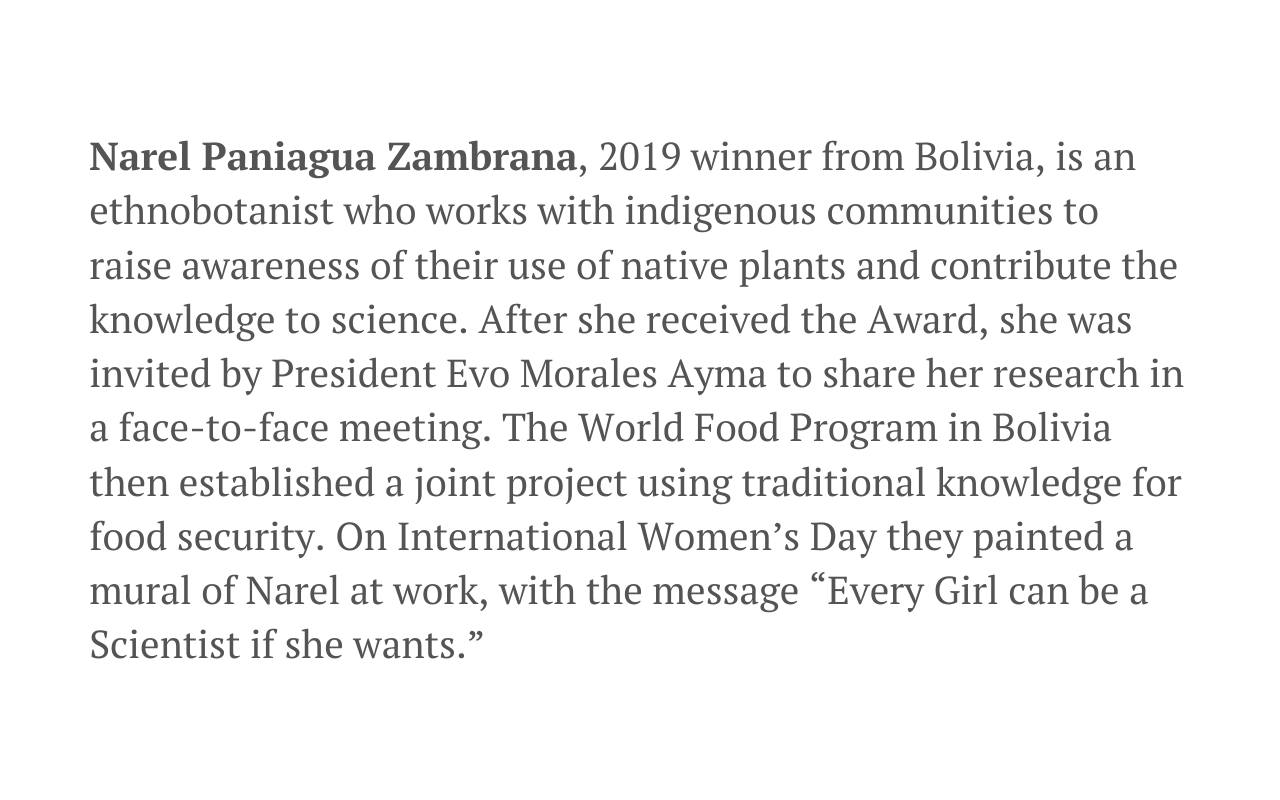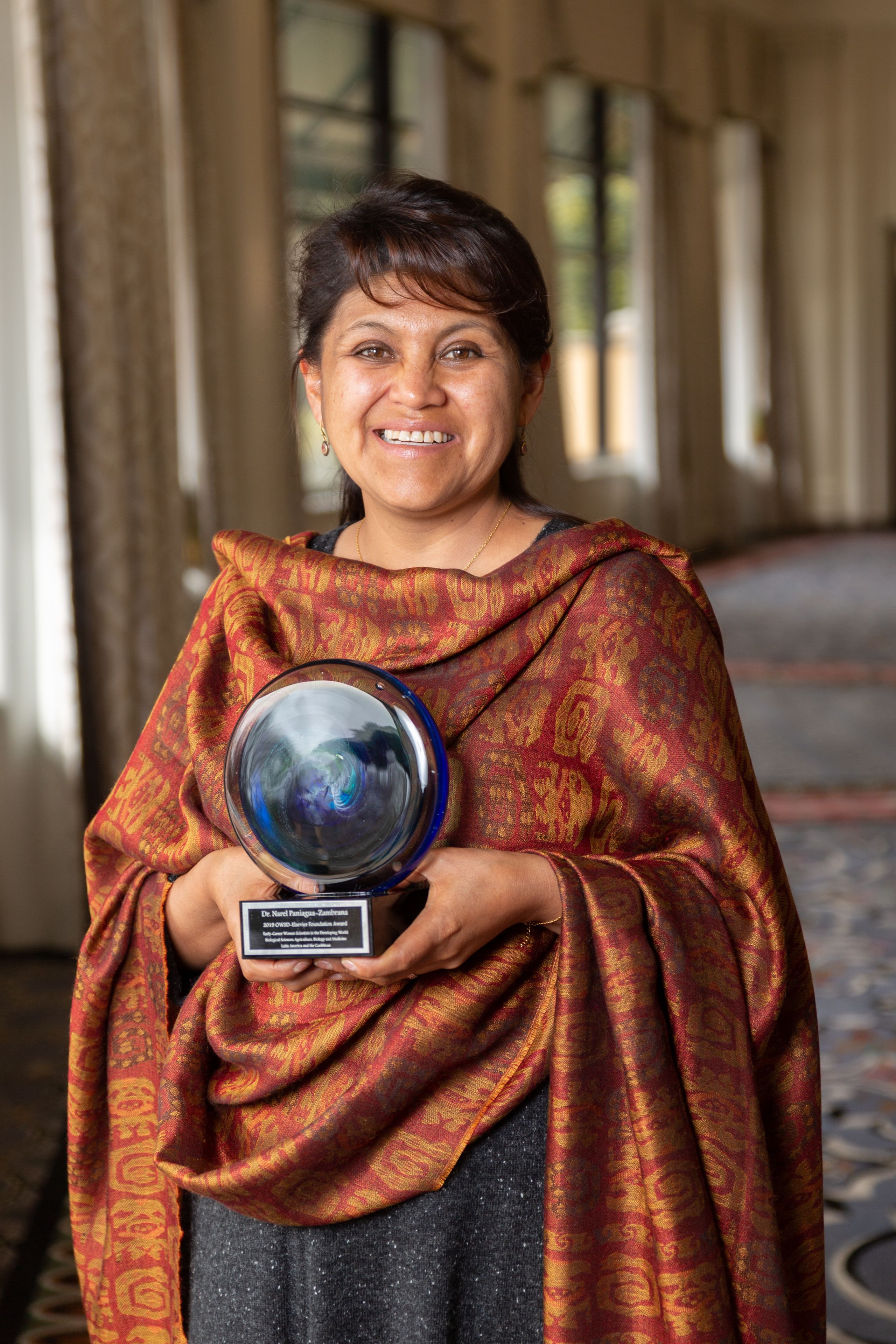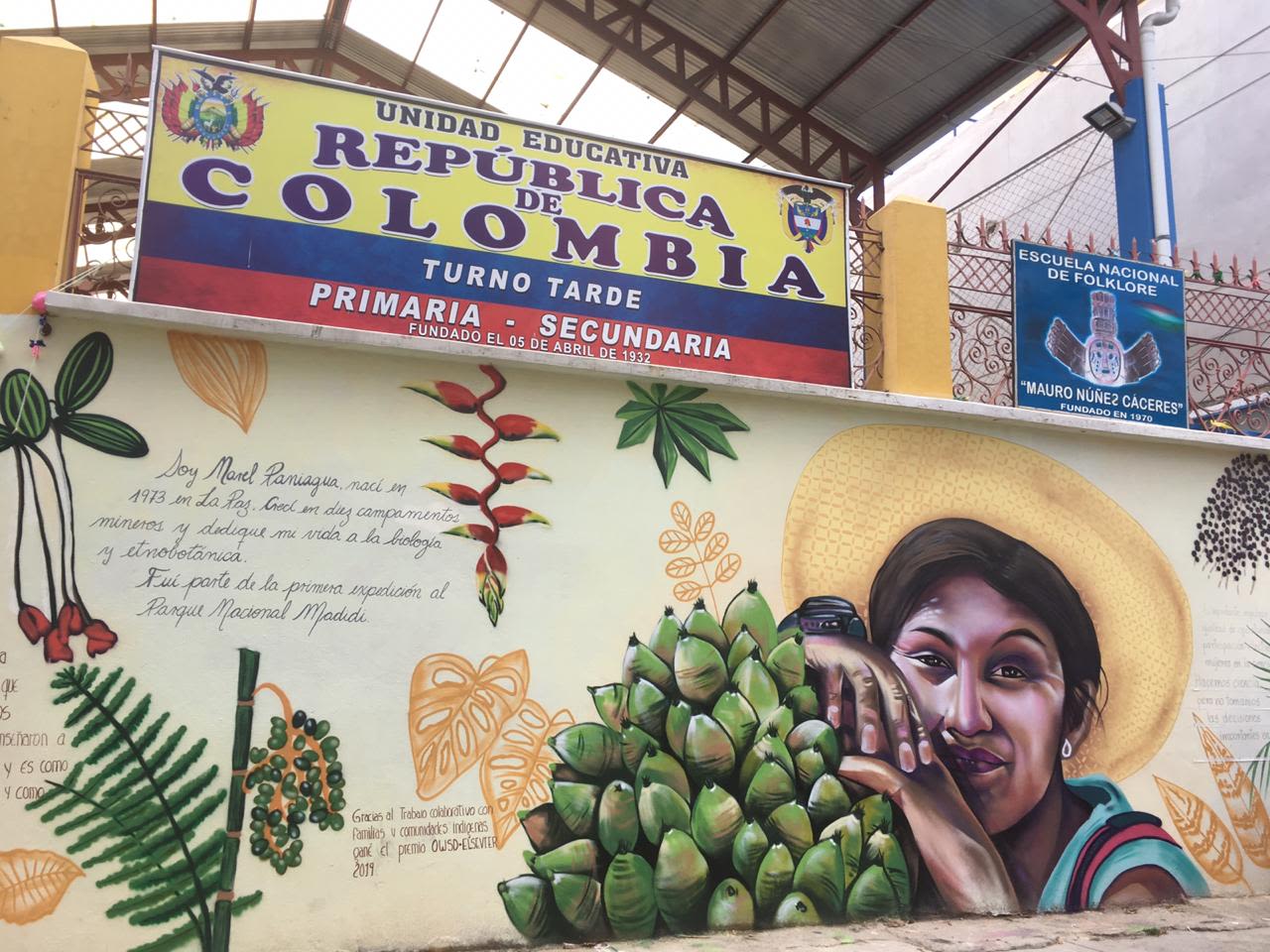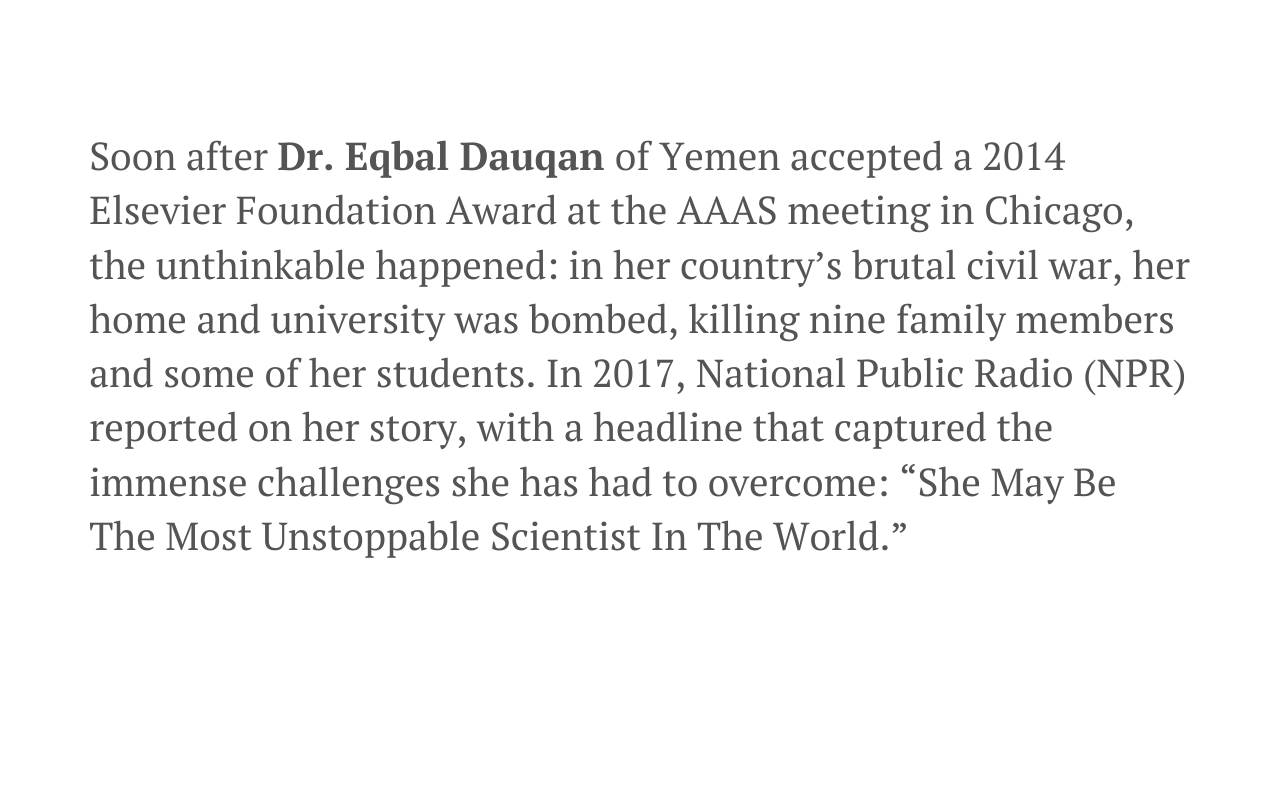 Dr. Eqbal Dauqan, 2014 winner talks about her research at the AAAS award ceremony.
Dr. Eqbal Dauqan, 2014 winner talks about her research at the AAAS award ceremony.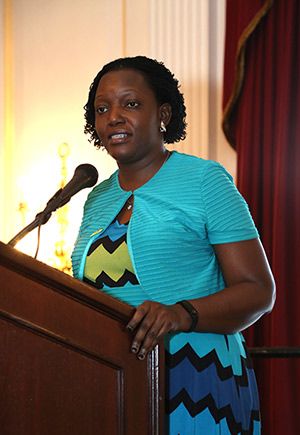 Dr. Etheldreda Nakimuli-Mpungu, 2016 winner, talks about her research at the AAAS award ceremony.
Dr. Etheldreda Nakimuli-Mpungu, 2016 winner, talks about her research at the AAAS award ceremony.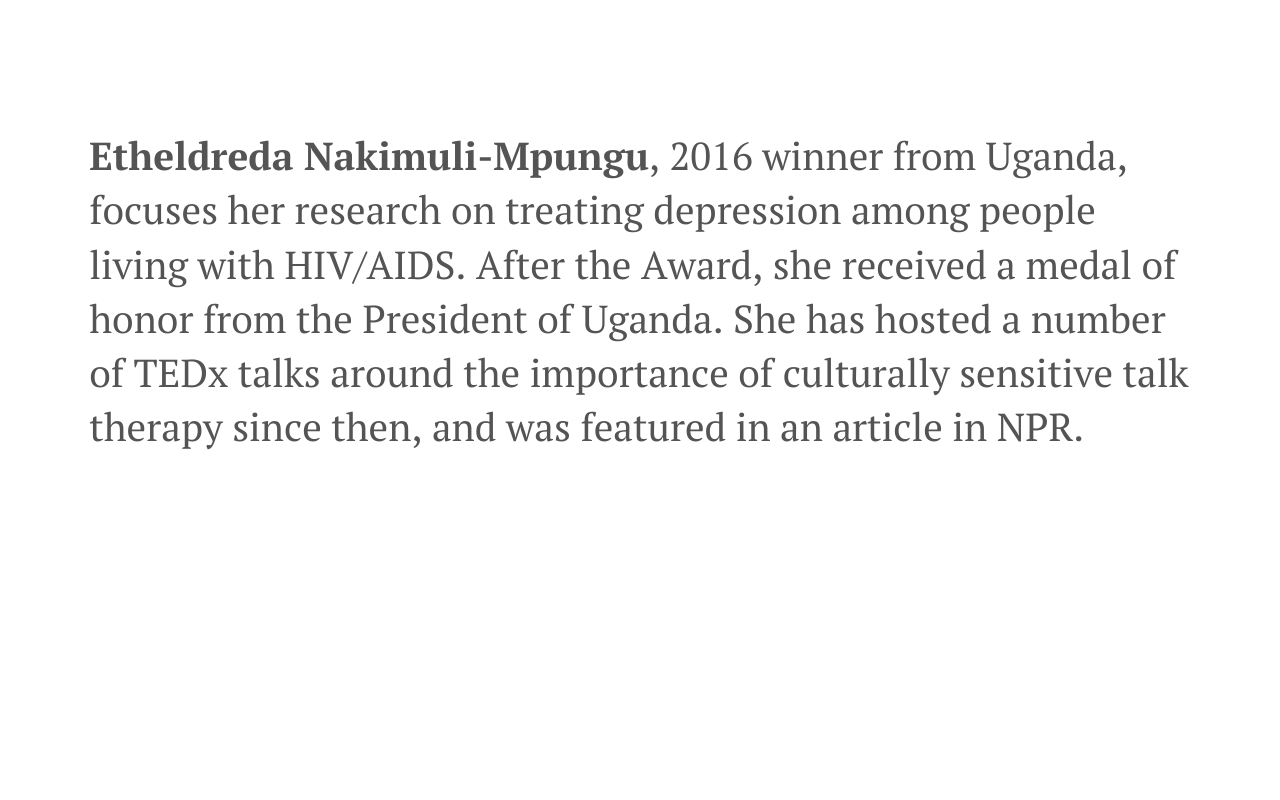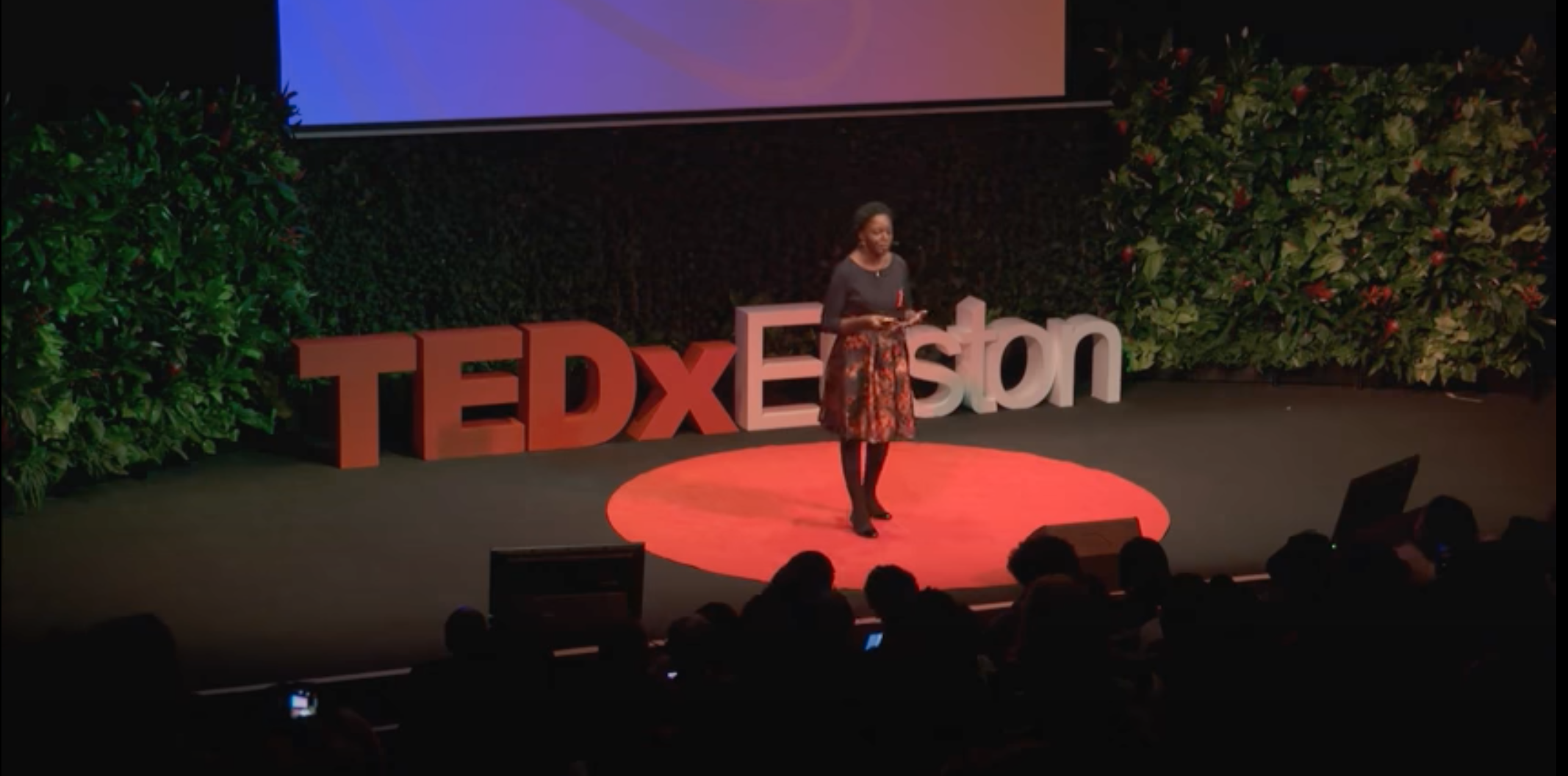 Highlighting OWSD-Elsevier Foundation Awards for Early-Career Women Scientists in the Developing World winners throughout the years
Over the years, we have awarded high-achieving strong women scientists whose stories have inspired us, and inspired fellow women scientists to overcome barriers and focus their research work on how to solve pressing issues by using science for society.
Spotlight on Dr. Dawn Fox, 2018 winner from Guyana
Dr. Dawn Iona Fox has been passionate about chemistry since high school. Then a national disaster set her on a trajectory that would define her career. In 1995, the tailing dam at the Omai Gold Mine in Guyana cracked, spewing contaminants into a river people relied on for drinking, fishing, bathing and transportation.
If you live in a riverain community, water is not only for your drinking but also your mode of transportation; it's where you get your livelihood from, it's where you get your food from. And when that gets impacted, your whole life is impacted. That is when I realized this is not only a problem for my community – the world needs clean water.
Her desire to "clean dirty water" piqued her interest in creating long-term, sustainable solutions. Through her research, she focuses on converting waste into into materials that can solve environmental and public health issues, using local materials to improve water quality at the household level for vulnerable communities and for emergencies like floods, storms and hurricanes.
Dr. Fox uses microscopy and spectroscopy to create materials for improving water quality. She has developed aqueous phase sorbents (solid materials to remove contaminants from water) using a variety of materials local to Guyana, including waste sawdust, coconut shells, and rice husks. She has also worked on composite building materials, substituting chipped waste plastic for sand in concrete mixtures. She is currently developing a household water treatment filter made entirely from recycled and locally available materials.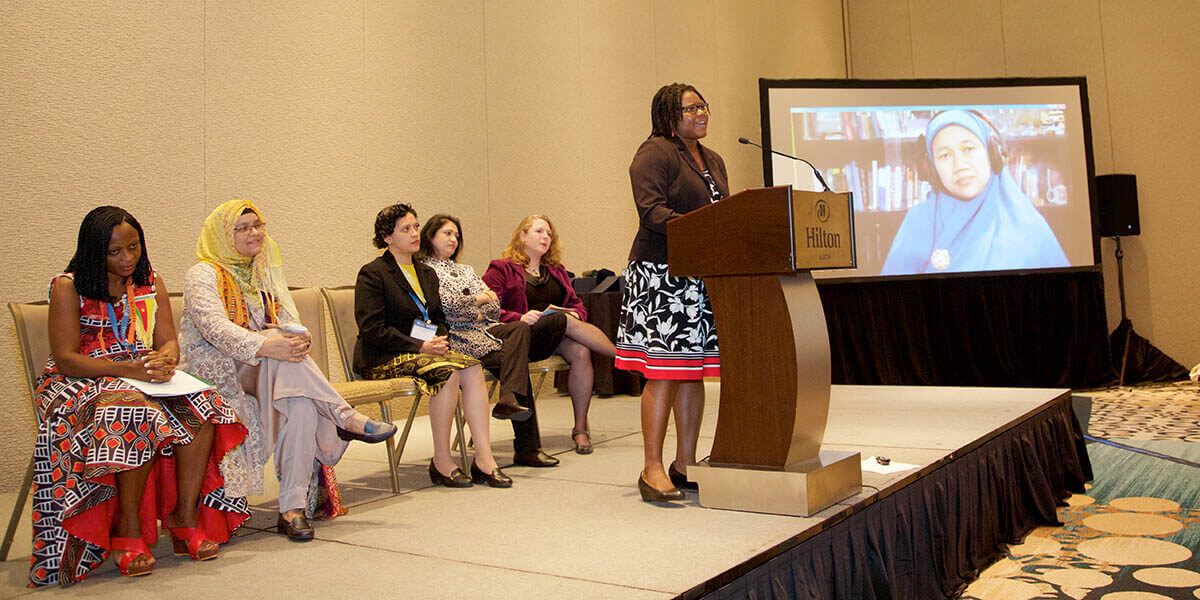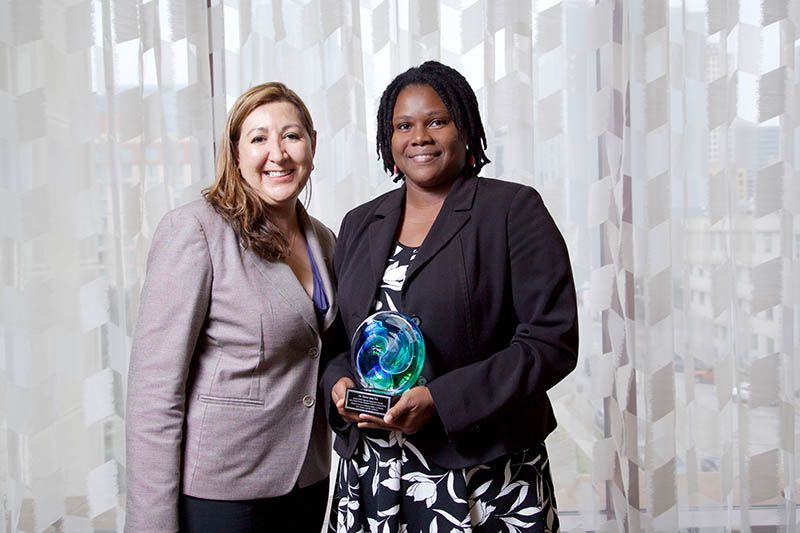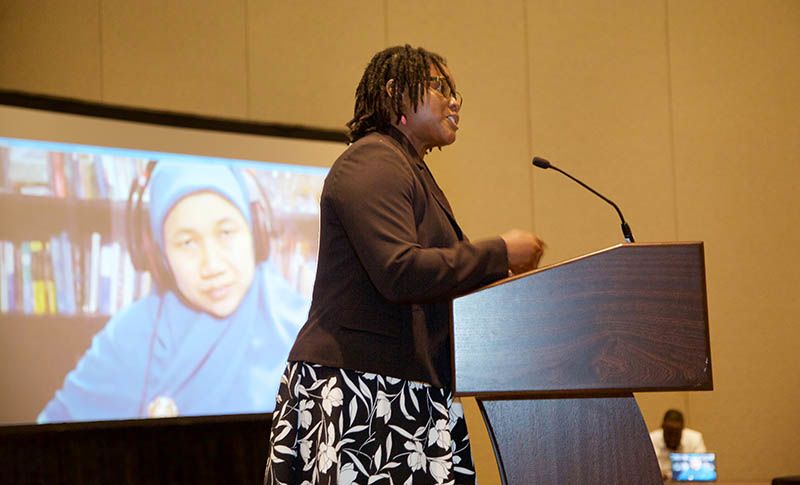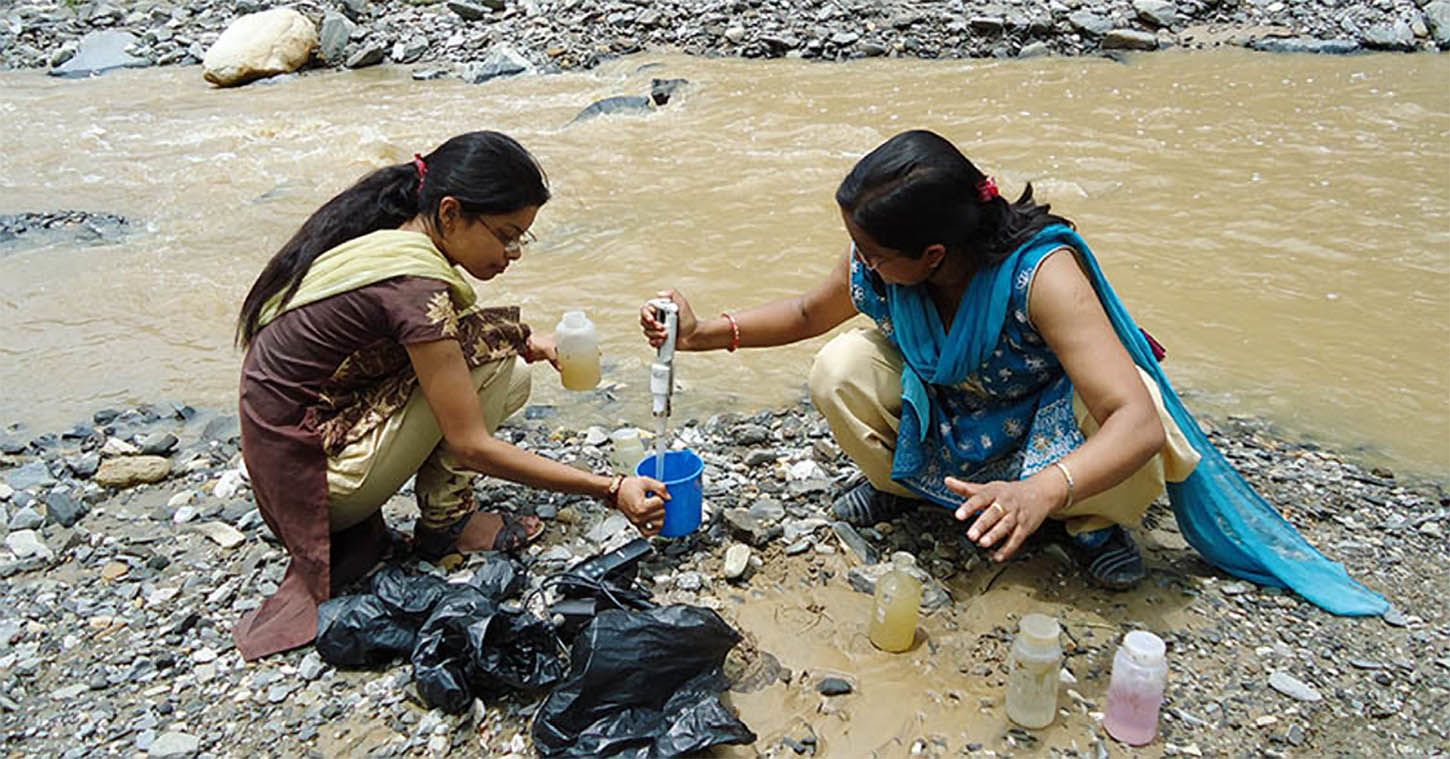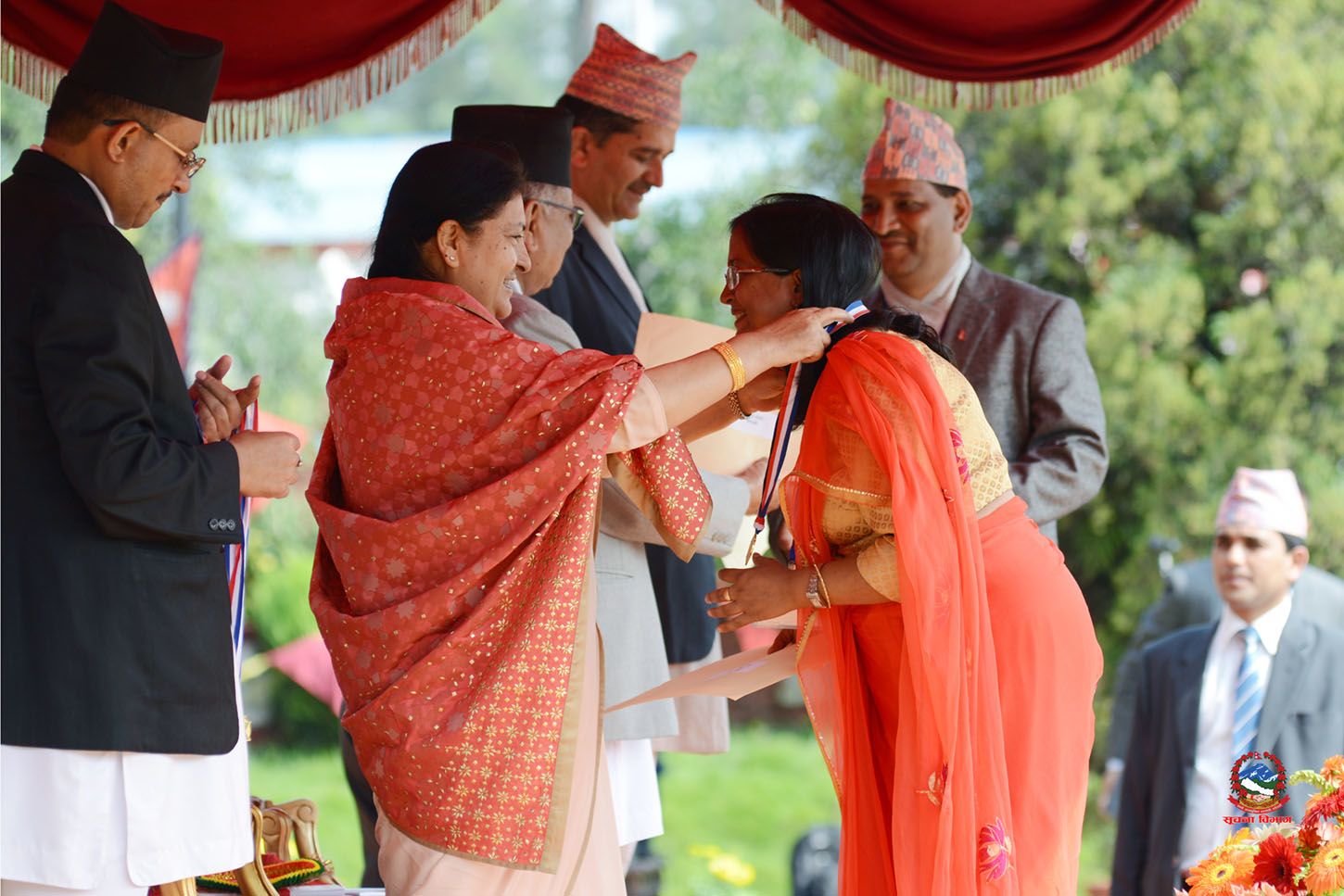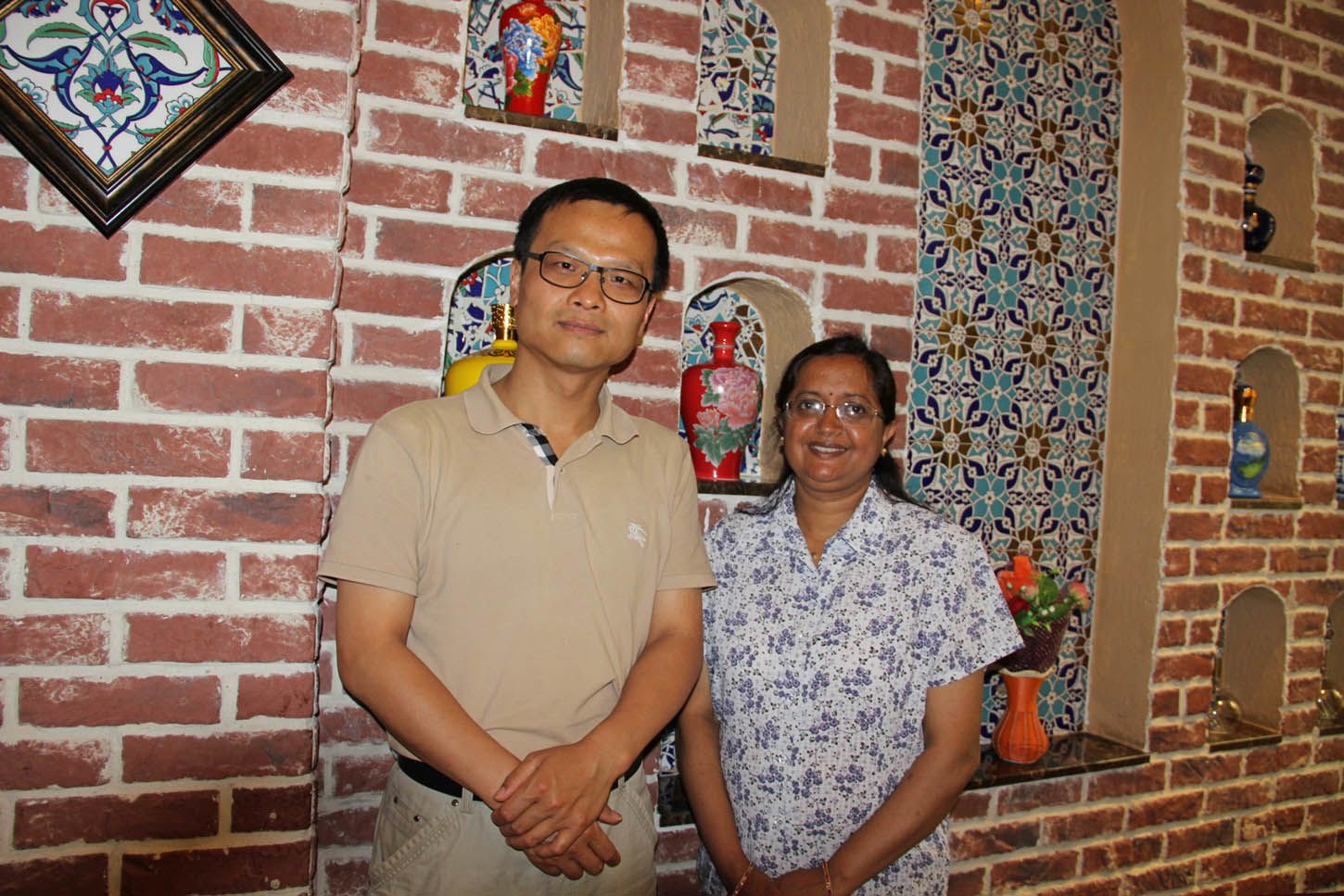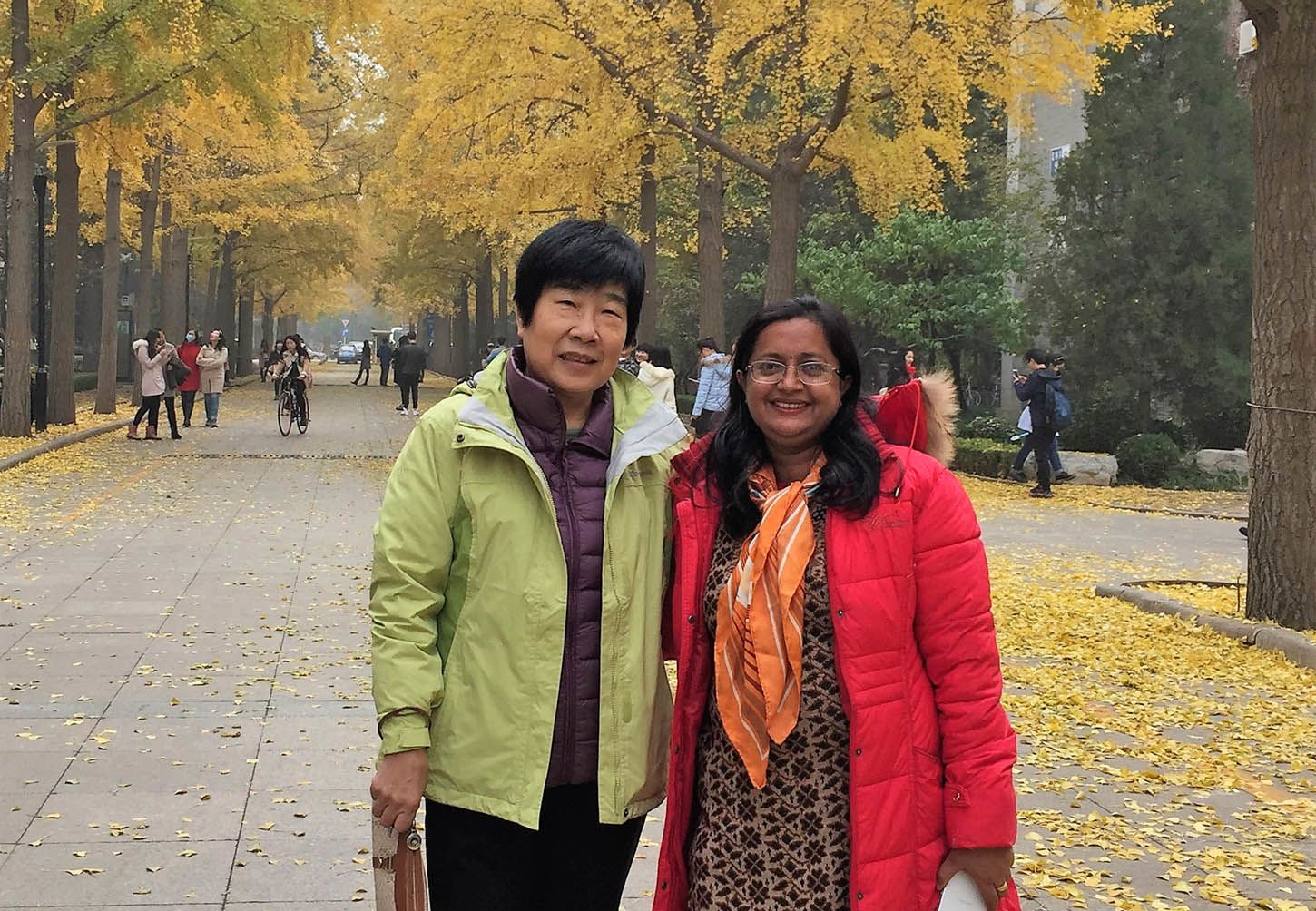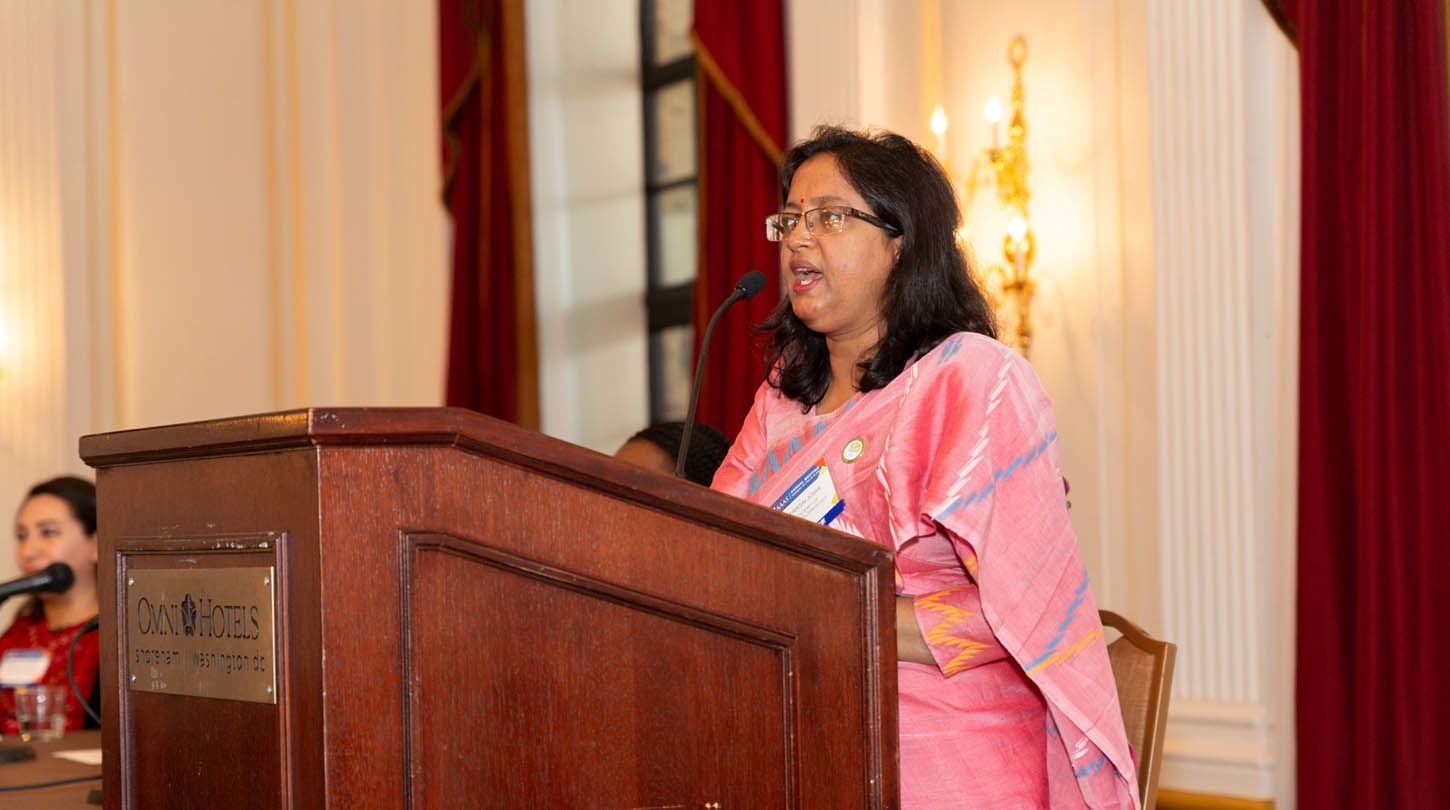 Spotlight on Dr. Tista Prasai Joshi, 2019 winner from Nepal
In her studies as an environmental biologist, Dr. Tista Prasai Joshi has been tackling a problem that has sickened thousands in rural Nepal.
Her research journey would take her more than 2,000 miles from home to a world-renowned research institute, to pursue a PhD in Environmental Engineering at the University of the Chinese Academy of Sciences (UCAS) in Beijing.
In China, she immersed herself in her research, working late hours in the lab. And she was not alone. "I had one lady teacher – she was so hard working," Tista recalled. "She came to the office at 7 o'clock (in the morning), and sometimes she worked until midnight. It was really amazing, and I was always thinking, 'Oh I have to live this way.'
Her hard work paid off. Based on her publications, she was awarded the Excellent International Student Award from the University of the Chinese Academy of Sciences (UCAS) in 2017. When Tista returned to Nepal in 2017, she resumed her research at the Nepal Academy of Science and Technology, furthering her research to improve the quality of drinking water.
I want to solve so many questions of the people regarding water quality issues. Now I am working hard and try to figure them out.
Now, she applies novel metal oxide adsorbents to remove harmful organic and inorganic arsenic compounds from water efficiently. Her primary aim has been to develop economic and environmentally friendly techniques for the treatment of water. In addition to raising public awareness, this work has had a significant impact on the accountability of drinking water suppliers in Kathmandu. In addition, her lab has tested and found coliform bacteria in the water. While coliform is not harmful in itself, it is an indicator that disease-causing organisms may be present. As a result, her lab urges the public to treat their water before drinking it.
Spotlight on Narel Paniagua-Zambrana, 2019 winner from Bolivia
Dr. Narel Paniagua-Zambrana got a glimpse of the course her life would take when she was a child growing up in mining camps in the mountains outside La Paz, Bolivia.
Life in the mines gave her a close relationship with nature and people – and a keen sense of what was required to help them. Since then, she has transformed the dream of improving people's lives to reality, navigating a path from agronomy to biology to botany and finally to ethnobotany, a branch of botany that studies a people's traditional knowledge of plant use.
Once you leave for the field, your relationship with the people starts. They not only teach you how to walk in the forest or to cross a river, they teach you how they relate to the environment, and that knowledge is what we need to learn. This relationship is what we need to use as the main tool to conserve resources and associated traditional knowledge.
Narel was honored for her work documenting and protecting traditional knowledge of plant use by indigenous populations and local communities, especially in Bolivia – one of the most culturally diverse countries in Latin America. As an Associated Reseacher at the Herbario Nacional de Bolivia, she works with people who use use plants for all aspects of their lives, from food and medicine to construction, clothing, household supplies and religious ceremonies. Her work gives people the tools and motivation to conserve their knowledge and natural resources.
Her work in these communities has had a far-reaching impact on the field of research as well as the people she works with. In addition, the information she has documented has been incorporated into educational materials and programs to protect the environment and related knowledge of natural resources. In recent years, she has also developed research projects where she trains local people to assist with research while observing the Nagoya Protocol, which requires scientific projects to be co-developed with the local communities that would be affected.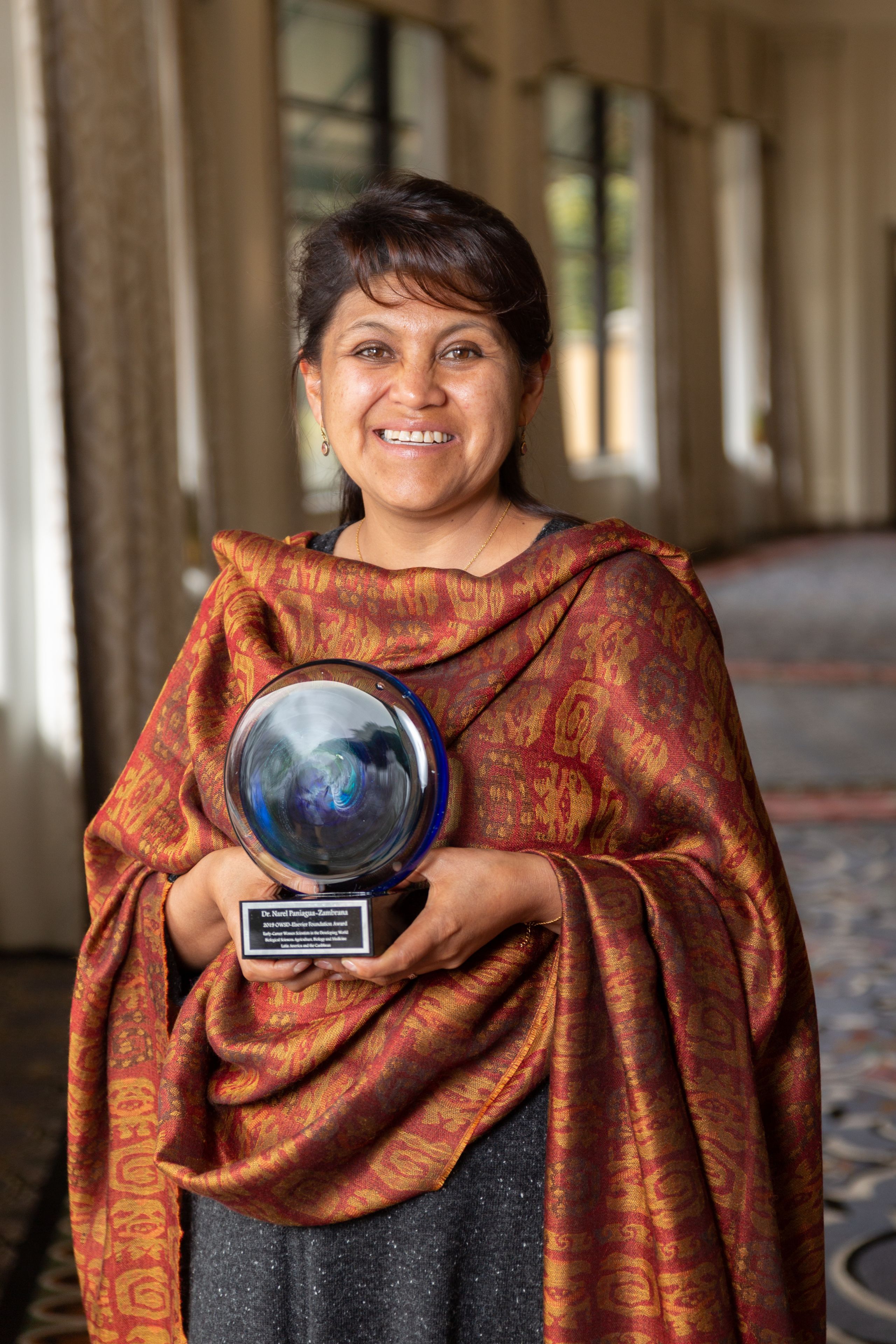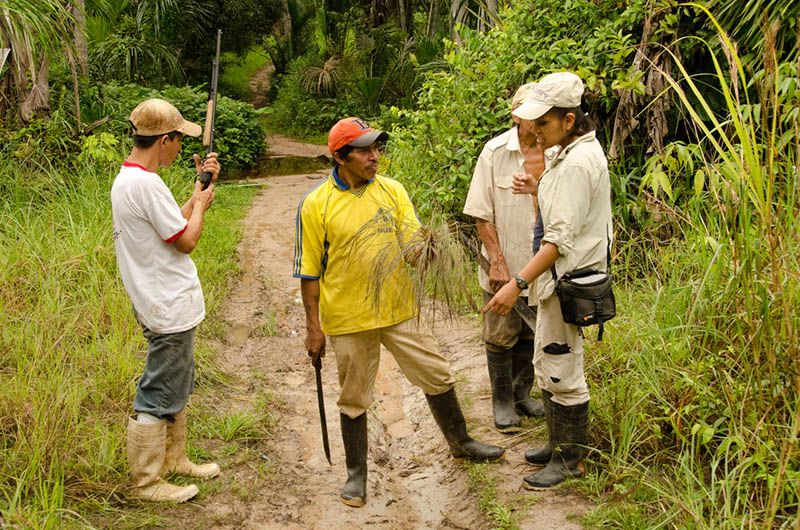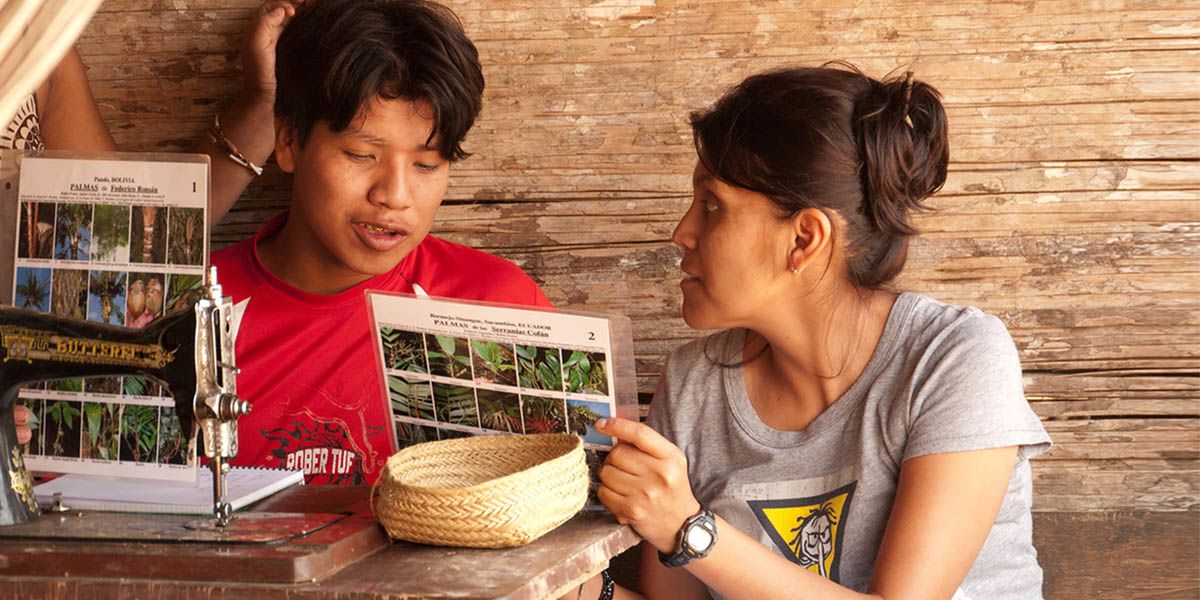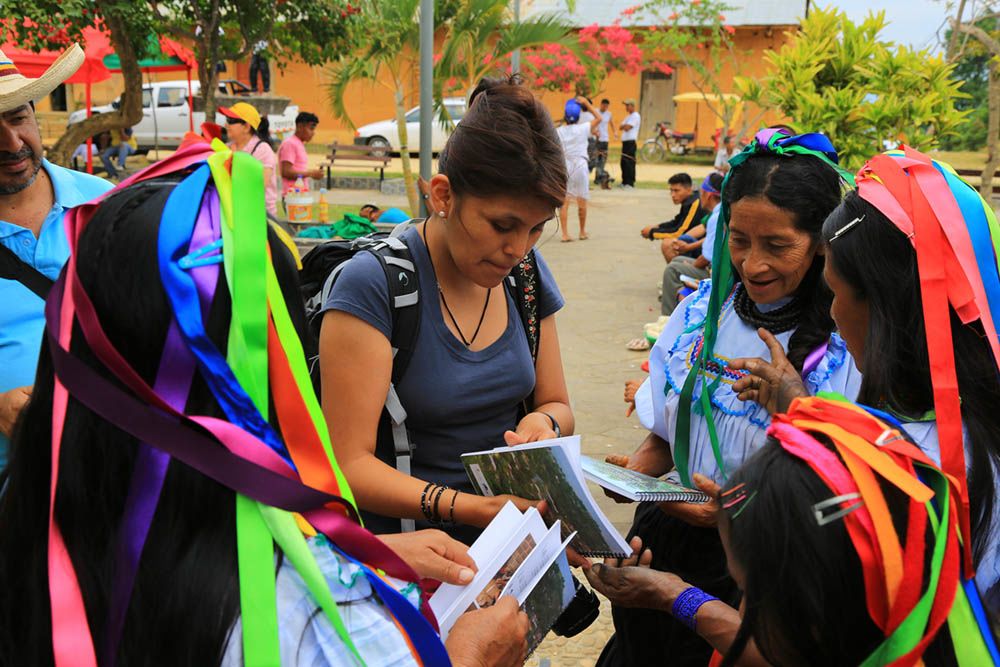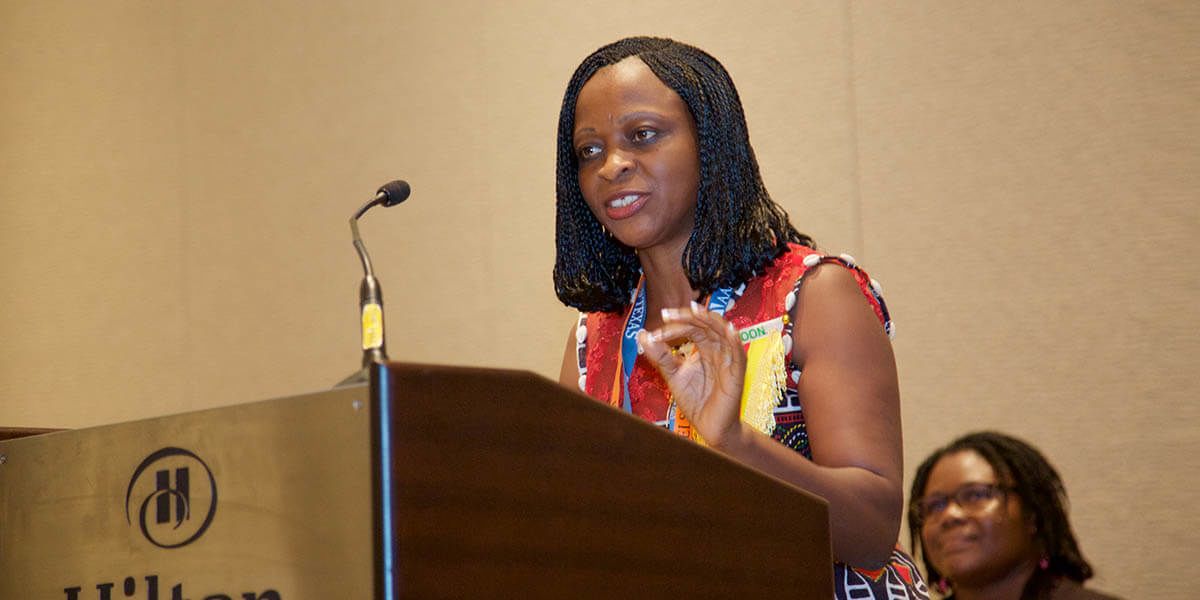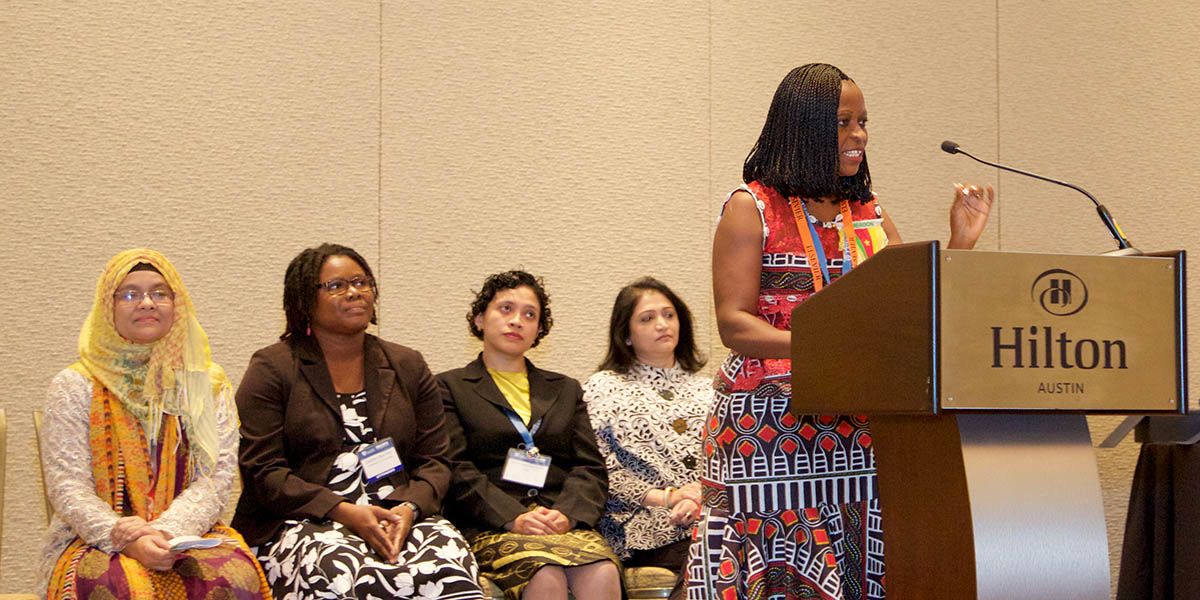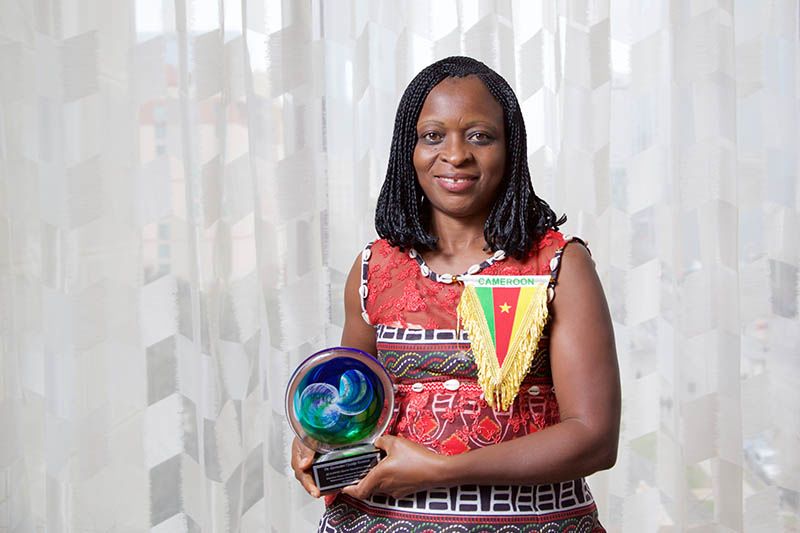 Spotlight on Dr. Germaine Djuidje Kenmoe, 2018 winner from Cameroon
As the youngest of 25 children, Germaine could have easily blended in by doing what was expected of girls in her culture. Instead, she chose a path few girls had travelled. Germaine was determined to go to college. Fortunately, one of her sisters had married an engineer, who shared her passion for education. "He believed in my dream and decided to pay my university," she said.
But most of the professors she encountered did not believe in her dream. That became clear when she finished her undergraduate studies and looked to pursue a master's degree.
My best advice is that the first responsibility of a woman is to have a job. When you have a scientific job as a woman, you have the visibility in society – you look like a diva.
Now Dr. Germaine Djuidje Kenmoe is Associate Professor of Physics at the University of Yaoundé 1 in Cameroon, where she is working on reducing friction on material surfaces. Her research on the mechanics of friction-and-wear processes on the molecular level has the potential to reduce the cost of energy and material losses caused by wear and can result in greater energy efficiency. Her primary goal is to make it possible to switch friction on and off in the near future, just as we can flip light switches on and off.
Spotlight on Dr. Amira Shaheen, 2019 winner from Palestine
Dr. Shaheen has always had a passion for science, but her path took a sharp turn after she completed her bachelor's degree in chemistry and chemical technology.
"I studied chemistry because I loved this subject, so I went to university and studied it for four years. And then I found out, well, studying chemistry can answer many questions, but I don't want to spend my time working in laboratories. I decided I would love to work with people – to know what health problems people are facing and how they can be helped.
She was drawn by a problem that's prominent among the young population of Palestine: injuries. For her PhD thesis at the London School of Hygiene & Tropical Medicine (LSHTM), Amira investigated the epidemiology of unintentional injuries among Palestinian school-aged children, basing her study on mortality data from the Palestinian Ministry of Health and morbidity data from a project on health behavior in school-aged children.
Amira is currently the principle investigator on a project called HERA: Healthcare Responding to Violence and Abuse, where they have implemented an evidence-based intervention called IRIS, Identification and Referral to Increase Safety.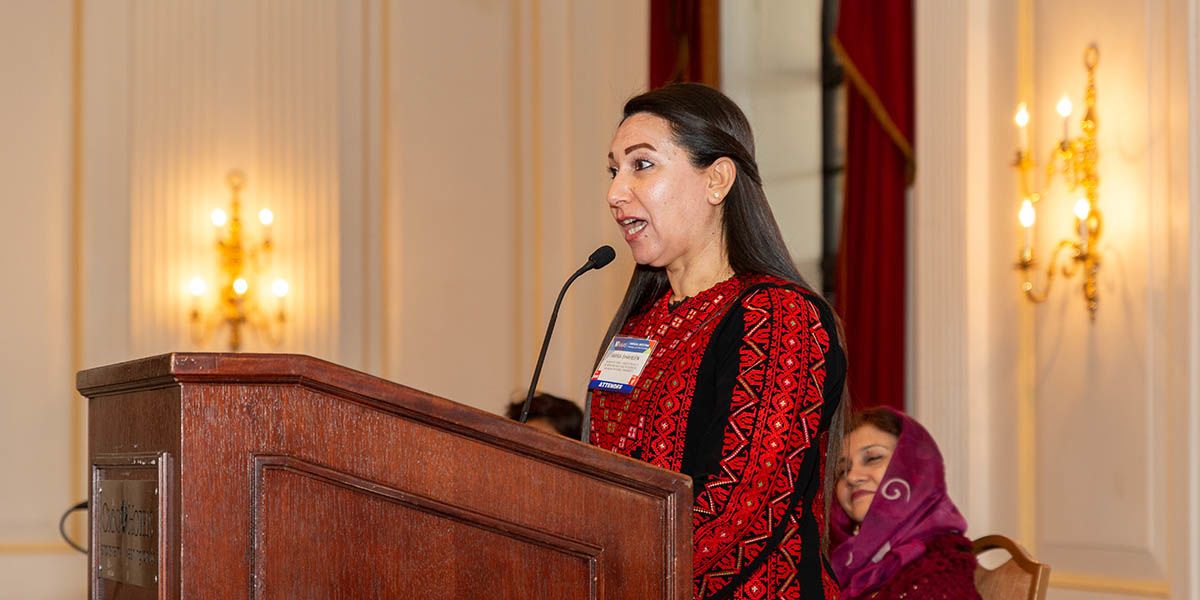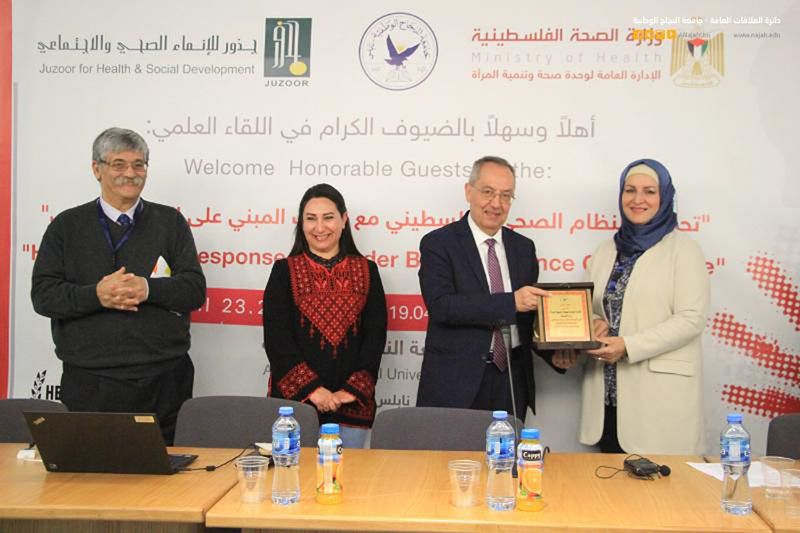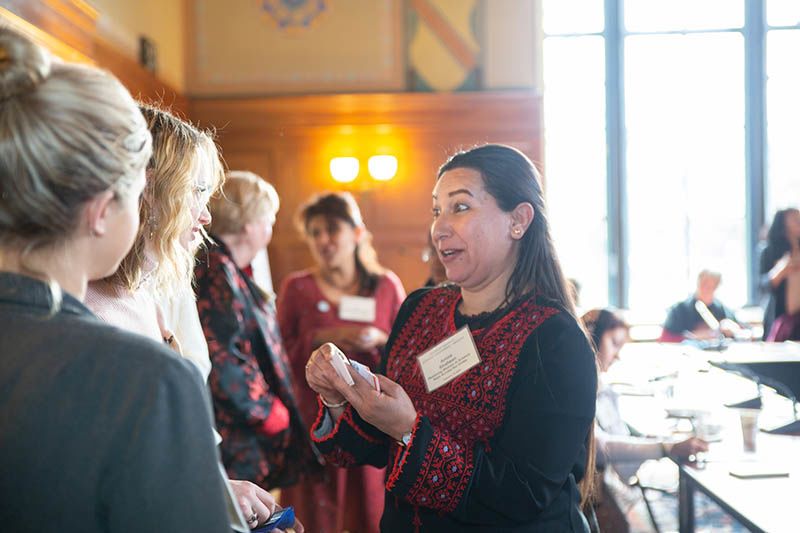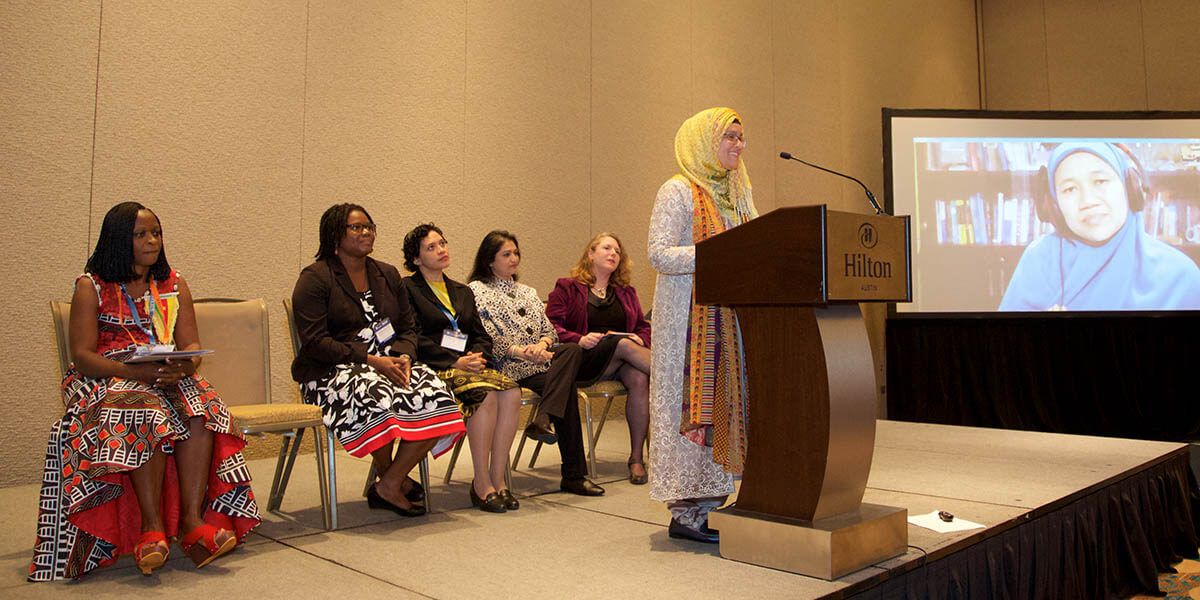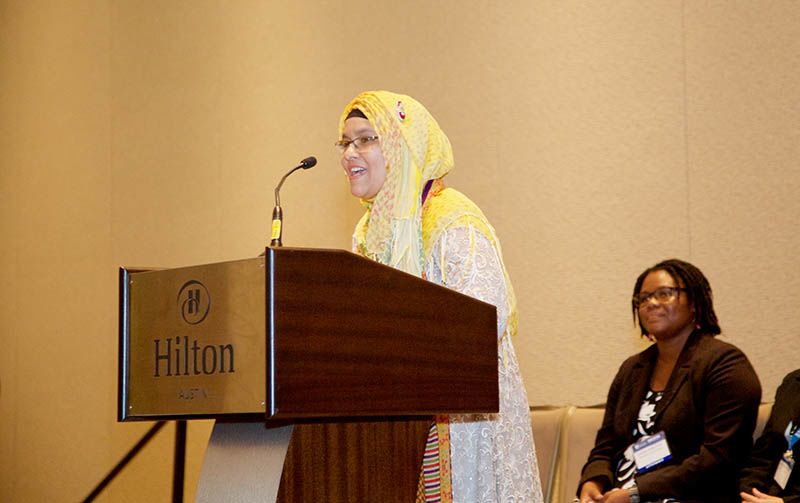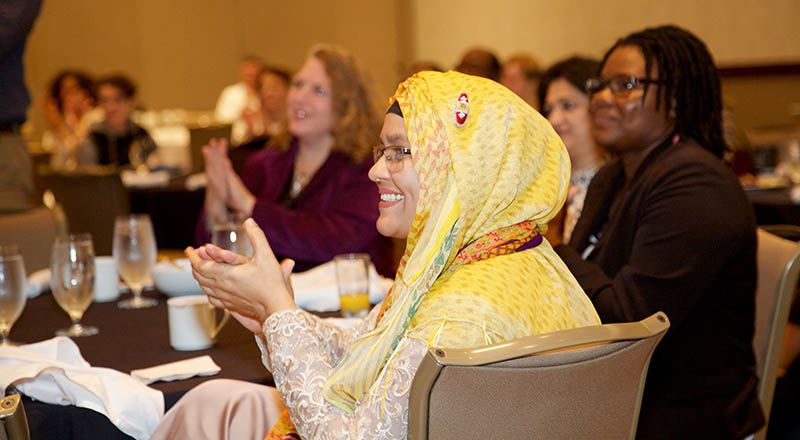 Spotlight on Dr. Hasibun Naher, 2018 winner from Bangladesh
For Dr. Hasibun Naher her name was her destiny– Hasibun meaning "one who calculates," like her subject.
"My father wanted me to be a doctor," Hasibun said, "but when I finished primary school, I thought, 'I want to be a doctor but not a medical doctor. I have to complete my PhD.'" She loved mathematics and she realized that math could be used to solve problems of science.
Nowadays, the world has so many problems, and as a mathematician, I can use mathematical modeling to solve these problems.
With its long coastline and tropical monsoon climate, Bangladesh is extremely vulnerable to earthquakes and tsunamis, she explained. For that reason, she chose to focus her research on the simulation of tsunamis, to make better predictions of their behavior.
Now, Hasibun is Associate Professor of Mathematics in the Department of Mathematics and Natural Sciences at BRAC University in Dhaka, Bangladesh, where she was named Best Researcher in 2015. She has published many scientific papers in international journals in her research areas of partial differential equations and travelling waves, mathematical physics and mathematical biology, and she is the author of two books published by the Bangladesh National Curriculum and Textbook Board.
---
To know more about The Elsevier Foundation, you can: