Journalists learn from women scientists at global conference in Colombia
Researchers from Latin America talk about their challenges as women in science and how to work with the media despite limited resources.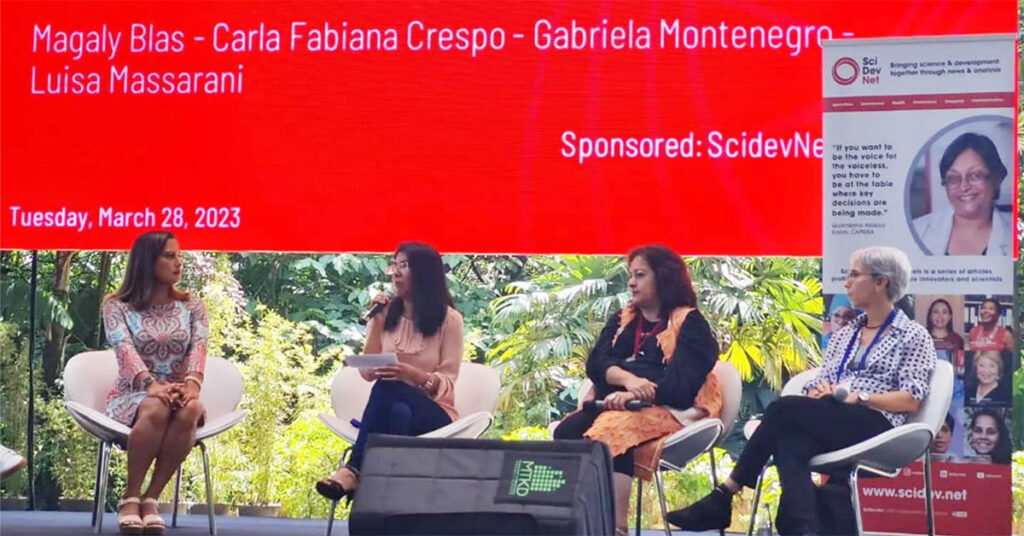 The media plays a powerful role when it comes to the representation of science. For many people outside the research ecosystem, the way media channels showcase research will define the way they see researchers. If the scope of that representation is narrow in terms of diversity, then people's perceptions of who leads and conducts research will also be narrow. That has implications for a new generation deciding whether they belong in the world of research, and it has implications for how people trust and engage with research.
These issues — with a focus on gender — were discussed recently on a panel titled "Growing research equity and representation: a dialogue with Latin American women researchers" at the bi-annual World Conference of Science Journalists, held in the botanical gardens of Medellin, Colombia.
The panelists looked at gender in research with a focus on building equity and representation among Latin American women scientists and how they relate to the media. Brought together by the Elsevier Foundation and SciDev.Net, the panel featured three changemakers from Peru, Bolivia and Guatemala who have received the OWSD-Elsevier Foundation Award for Early-Career Women Scientists in the Developing World.
"Pregnant, I was able to see all the huge inequities that exist for women in the Amazon …"
Magaly Blas, MD, PhD (left) focuses on maternal and neonatal health in rural and remote areas of the Peruvian and Colombian Amazon. (Photo © Magaly Blas/Mamás del Río)
Dr Magaly Blas of Peru is an epidemiologist who has conducted research studies about HIV, HPV, HTLV, and other sexually transmitted infections in different populations. She has also researched the use of ICT (information and communication technology) for HIV prevention and to improve maternal and child health. In her fourth year of studying medicine at Universidad Peruana Cayetano Heredia (UPCH), she had an experience that changed her career trajectory:
I fell in love with research when I was in the fourth year of medical school. We were sent to the Amazon to do a project to decrease anaemia in children under 5 years old, and then I also fell in love with the Amazon. I started to do research on infectious diseases in those areas. I became pregnant with my two daughters while working in the field in Amazon areas that didn't have access to water, electricity, or sanitation.

At that point, pregnant, I was able to see more clearly all the huge inequities that exist for women in the Amazon to access any type of healthcare and any basic services. That's when I decided to switch my career path to work on improving maternal and newborn health in remote rural and indigenous areas of the Peruvian Amazon.
Dr Blas went on to found and lead the Mamás del Río (Mothers of the River) Programme in the Peruvian Amazon, which trains community health workers in the use of technology to improve maternal and newborn health. She is also an Associate Professor at UPCH School of Public Health and Administration and an Affiliate Associate Professor at the Department of Global Health at the University of Washington.
---
Read the full article on Elsevier Connect: "Journalists learn from women scientists at global conference in Colombia", Rebecca Clear, 20 April 2023.