GSCC 5th anniversary – Interviews with past winners series (5) : Dr. Ankur Patwardhan

We believe that chemistry plays a critical role in developing a sustainable future. Chemists have a special responsibility to develop those new products, resources and processes to make that happen. The Elsevier Foundation-ISC3 Green & Sustainable Chemistry Challenge seeks to stimulate innovative chemistry research that helps the environment and low-resource communities in emerging and developing countries.  In November 2020, the Elsevier Foundation will celebrate alongside its partner, the ISC3,  the 5th edition of the Green and Sustainable Chemistry Challenge, jointly run with Elsevier's chemistry journals team.
---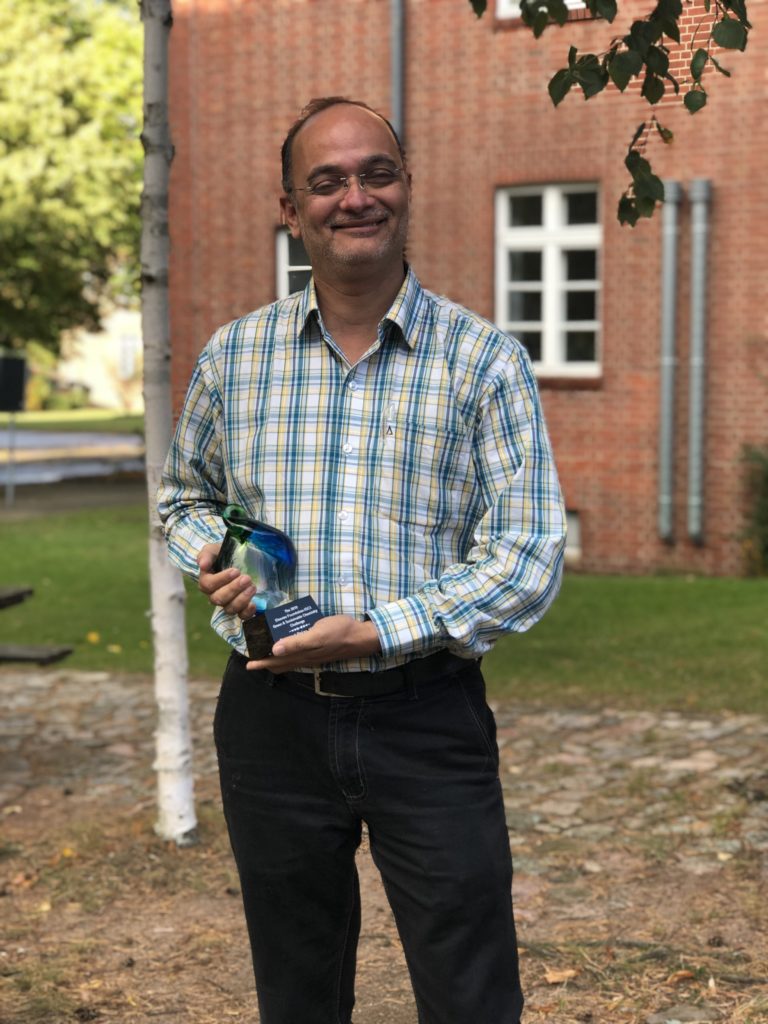 In 2019, Dr. Ankur Patwardhan, Head of the Biodiversity Department at Maharashtra Education Society's Abasaheb Garware College, Pune, India, was awarded the second prize of EUR €25,000. His project, "Butterfly attractant for pollination and ecosystem health", focuses on the plant-pollinator interactions that play a vital role in maintaining ecosystem balance and aims at enhancing floral visits by butterflies through the development of natural attractant formulations.
"This prize gives me the energy and confidence to keep going: to serve the community is a priority, and as first step I'll reach to the farmers who have supported the development of the project," said Dr. Ankur Patwardhan.
More than 75 percent of the world's crops depend on animal pollination, and in the last 50 years, the volume of agricultural production that depends on animal pollination has tripled. Due to climate change, however, the number of insects is plummeting, with bees having declined by 46 percent over the past decade and butterflies by 53 percent, according to a 2017 study in Biological Conservation. In an ecosystem, where every part is linked to the next, loss of insects and pollinators leads to the disappearance of plants, birds, mammals and fish, ultimately impacting the quality of human life.
Dr. Ankur Patwardhan has been working with an established network of farmers, which have been involved in field trials – driving capacity-building at a community level. After all, he said, "the priority is serving the community, reaching out to the farmers who have supported the project from the beginning."
One year later, we interviewed Dr. Patwardhan about his experience at the Challenge, as well as the upcoming steps for his project.
Can you give us more information on your project's objectives?
I have listed four objectives for my project: (i) Identification of plants visited frequently by butterflies; (ii) Extraction of plant materials and development of formulations for bioassay; (iii) Bioassays and characterization of active formulations and; (iv) Field trials.
Did you encounter any challenge in relation to the objectives you set?
Our project involves field observations and laboratory experiments. Butterflies show a high degree of seasonality. In tropical countries like India and in Western Ghats biodiversity hot-spot in particular, we could witness two population peaks of butterflies: the first one is in post-monsoon season (Sept-Oct) and the second one in spring-early summer (Mar-Apr). Although we were able to cover the first one to check for plant preferences by butterflies, we unfortunately couldn't cover the second completely because of travel restrictions imposed during the COVID pandemic.
The second and third objectives involve a considerable amount of lab work. We were able to conduct the initial experimentation with respect to extractions, and have thus been able to run the HPLC analyses. Unfortunately, because of the lockdown measures, the labs are closed since March and we will hopefully start again in mid November.  Travel restrictions also hampered our visits to field sites which is a vital component of the project. The need for dedicated field bioassay set-up was direly felt as our work stations and field bioassays were destroyed by monkeys in natural conditions and we also needed a stable butterfly population for testing our attractant formulations.
However this challenge was turned into an opportunity to develop a 'Living Butterfly Lab'  in my own premises, where bioassays are being conducted at the moment. So COVID was like a blessing in disguise for me, as I could devote dedicated time for the creation and development of the living lab. The initial field trials of formulations will be conducted here first and then the active formulations will be tested in natural conditions; all of which will help us in addressing the fourth objective. 
Here in the 'Living Lab', maintaining stable butterfly population for the experimentation is a challenge, as one needs to maintain balance between the butterfly larval host plants and adult nectar plants. Seasonality of plants and butterflies is another dimension that gets added to the space constraint as there is a limitation as to how large lab one can develop the lab in individual premises. But I am happy that my butterfly lab currently supports around 20 species of butterflies.
That's amazing! Have there been any further developments? 
We are taking this butterfly conservation initiative to a larger audience. Various industrial houses and developmental projects have been approached and we are now in a process of developing 'butterfly garden' as a logical follow-up of our project. Individual farm house owners and citizens are being involved, and inputs are given for establishment of terrace butterfly gardens. Efforts are now on to check which food crops and horticultural crops are visited and pollinated by butterflies so that we can reach farmers as well. We really want to make it as a 'Citizens science Initiative'.
We're really happy to hear that! What about partnerships? Did you collaborate with international partners after the Green & Sustainable Chemistry Challenge?
Initial scoping was done with respect to exploring an Indo-German Partnerships in Higher Education Programme. This programme  involves submission of proposals jointly by the Indian and German counterparts. We plan to develop this further with the institutes which have common mutual interests.
To generate awareness among lay man, a couple of articles were published in leading daily  newspapers, and popular talks were given through online web talks and broadcasted on 'Air'. We are also in a process of writing a research article that can be communicated to scientific peer reviewed journal.
Congratulations on that! We're looking forward to read more about it! Have you also been working on other projects in the meantime?
Not really, though certain ideas with respect to pollination biology are taking shape. But the first and foremost responsibility is to complete the ongoing project. We already have lost almost 9 months due to the global COVID pandemic, and now the priority is towards successful completion of the current project.
And what about the Award? What does it mean for your career?
Apart from the financial support from Elsevier, the Green & Sustainable Challenge gave us a global platform to present our idea and share and learn from each others' experiences. It helped in getting recognition at the Institute & the University level. The Award news received a wide coverage in the local media and helped us to reach grass roots levels. It also facilitated the interaction with the forest officials here, as pollination biology is one of the topical areas linked with human well being. Additionally, now we are promoting the 'Butterfly Conservation Initiative' to the general population and the industry alike through development of butterfly gardens, as a 'Citizens Science Initiative'.
If you were to choose just one word to describe your experience with the Green & Sustainable Chemistry Challenge, what would it be? 
ENRICHING (Elsevier's Novel Rewarding Insightful Challenging Humanitarian Iconic Natural Glory)
—
Read more about Ankur's project: