GSCC 5th anniversary – Interviews with past winners series (1): Dr. Chioma Blaise Chikere


We believe that chemistry plays a critical role in developing a sustainable future. Chemists have a special responsibility to develop those new products, resources and processes to make that happen. The Elsevier Foundation-ISC3 Green & Sustainable Chemistry Challenge seeks to stimulate innovative chemistry research that helps the environment and low-resource communities in emerging and developing countries.  In November 2020, we'll celebrate the 5th edition of the Challenge during the Green and Sustainable Chemistry Conference. To celebrate the milestone, we're talking to past winners about what the prize meant to them, new developments in their research and plans for the future.
---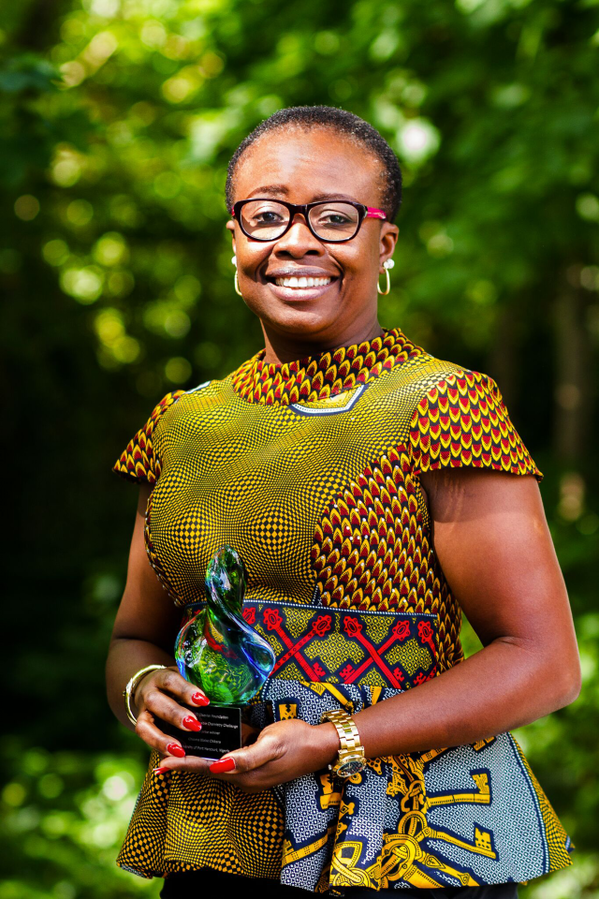 In 2017, Chioma Blaise Chikere was awarded the second prize of the Green Sustainable Chemistry Challenge. Her project "Eco-restoration of crude oil-polluted land in Nigeria" demonstrated how organic nutrients such as garden fertilizers and animal excreta can be used to degrade hydrocarbons, cleaning up the soils heavily contaminated by decades of oil spills. "This award will give me access to better research facilities and help empower local Nigerian women through eco-restauration and biodiversity recovery," said Dr. Chikere receiving the prize.
The Niger Delta has been devastated by crude oil spills for decades and bioremediation of this land is a major priority for Nigeria, and her project proposed to add organic nutrients such as animal excreta to the soil, using the microorganisms' own capacities to degrade hydrocarbons, to clean up contaminated soil.
Dr. Chikere's area of specialization is environmental biotechnology and petroleum microbiology with focus on bioremediation. She is principal investigator in two research groups: one focusing on the use of molecular microbiology techniques to evaluate microbial population in bioremediation of oil-polluted environments; and the second exploring the therapeutic potentials of underutilized indigenous medicinal plants. Three years later, we caught up with Dr. Chikere to learn about her research journey.
Can you talk about the objectives you had set for your project?
Yes, I had three objectives: (i) To effectively monitor the potentials of organic and inorganic nutrient supplements in petroleum hydrocarbon degradation and complete soil recovery; (ii) To ascertain the use of poly-phasic approaches to monitor the progress of crude-oil bioremediation in polluted soil and; (iii) To determine the bacterial communities responsible for the degradation of petroleum hydrocarbons and their specific degradative functions using high-throughput genomics and metagenomics. I'm proud to say all three have been achieved!
That is impressive! Did you encounter any challenge?
The challenges I encountered came from negotiations with the community land owners where the bioremediation project was to take place. The landlord requested seeing me in person and had the impression that I would compensate him for my cleanup of his polluted farmland… It took a series of meetings and awareness-raising work for me to convince him that I meant well, and the project was going to benefit him and the community, once ecosystem services were restored in the abandoned wasted farmland.
Another major setback was securing a PhD scholarship for my student Emmanuel Oliver Fenibo, who is from the community where the project was done. For effective monitoring and unrestricted access during the active phase of bioremediation and site works, it was imperative that I got him an opportunity to do a PhD while overseeing the progress of the project – as I was heavily pregnant with my 4th child then and I certainly could use the help! It took quite some time and effort to obtain two PhD scholarships from the World Bank Africa Centre of Excellence in Oil Field Chemicals Research (ACE-CEFOR), and the help of  my colleagues, but my students have since defended their PhD theses in February 2020, under my Elsevier Foundation project, and are assisting me immensely by managing the connections between the community and us.
We have now finally concluded the project and fully restored biodiversity and ecosystem services in this previously barren and unproductive farmland. (see figures below putting forward the progress made in the bioremediation and the overall success story of the researcher).
What is next for your project?
The next step is the planting of arable indigenous crops in this reclaimed farmland, during the next farming season. The planting will be done by the women in the families that own the restored land – and my goal is that this will be a form of empowerment for them. The COVID-19 pandemic has affected our initial plans, due to the national lockdown, but when normalcy returns our project will be fully completed.
What did the Green and Sustainable Chemistry prize mean for your career? 
Winning the prize has enhanced my visibility, following the publicity that the Elsevier Foundation and Elsevier gave to the awardees. I've also managed to secure collaborators (Prof. Khayalethu Ntushelo from the University of South Africa and Prof. Rasheed Adeleke from the North West University of South Africa) who worked with me and provided laboratory spaces and supplies for my 2 PhD students – who spent 3 months each in 2018 in my collaborators labs! I'm grateful for the opportunity that was given me: focusing on problem-solving for local issues is of immense benefits to communities in developing countries, and a great way to support the UN Sustainable Development Goals.
Interested in Dr. Chikere's work? Browse her publications:
Formulation and evaluation of slow-release fertilizer from agricultural and industrial wastes for remediation of crude oil-polluted soils. Society of Petroleum Engineers – SPE Nigeria Annual International Conference and Exhibition 2019, NAIC 2019.
Biodegradation of artisanally refined diesel and the influence of organic wastes on oil-polluted soil remediation. Scientific African, 20 April 2020, e00385.