Ghanaian chemist is finding toxic substances in unusual places
Through her research and science diplomacy, an environmental chemist is changing the narrative in her native Ghana.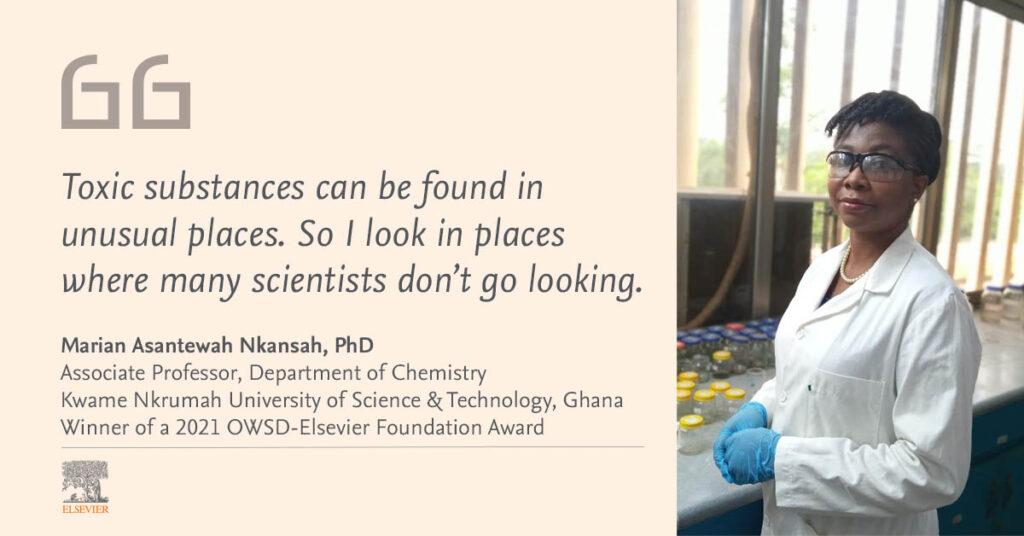 For Prof Marian Asantewah Nkansah, who specializes in environmental chemistry, circumstances continually remind her that science comes with a pricetag. It's a reality faced by scientists everywhere, but for those in developing countries, the situation can be even more palpable.
Funding on our side of the world — for Ghana and most African countries — is driven unfortunately by funders from outside the continent. And most research that is funded outside the continent comes with pre-defined thematic areas which may not exactly be in line with what you really, really want to do. So most of the time, you attempt to write and skew your story to fit with the scope of the funding agency.
That has been the story for a lot of scientists in Africa: you do what you get the money for — not necessarily what you really dream about.
Through her research, teaching and science diplomacy, however, Marian is helping to change that narrative.
Marian is an Associate Professor in the Department of Chemistry at the Kwame Nkrumah University of Science and Technology (KNUST), in Kumasi, Ghana, where she teaches Practical Chemistry, Nuclear/Radiochemistry, Chemistry and Society, Petroleum Chemistry and Research Methods. Recently, she became one of the five winners of the 2021 OWSD-Elsevier Foundation Award for Early Career Women Scientists in the Developing World. She accepted the award on February 9 at the virtual 2021 AAAS Annual Meeting.
The award recognizes researchers who have made significant contributions to the advancement of scientific knowledge.
In her research, Marian focuses on identifying toxic substances in the environment and determining the best remediation strategies. She focuses on inorganic contaminants such as heavy metals — and on organic contaminants like polycyclic aromatic hydrocarbons (PAHs) and persistent organic pollutants (POPs), which find their way into water, soil, food and the atmosphere.
---
Read the full article on Elsevier Connect: "Ghanaian chemist is finding toxic substances in unusual places", Alison Bert, 3 March 2021