Empowering 'girl bosses' with data, analytics — and community

Through Girls Inc. of New York City, students in Harlem are learning skills that will help them excel in business and beyond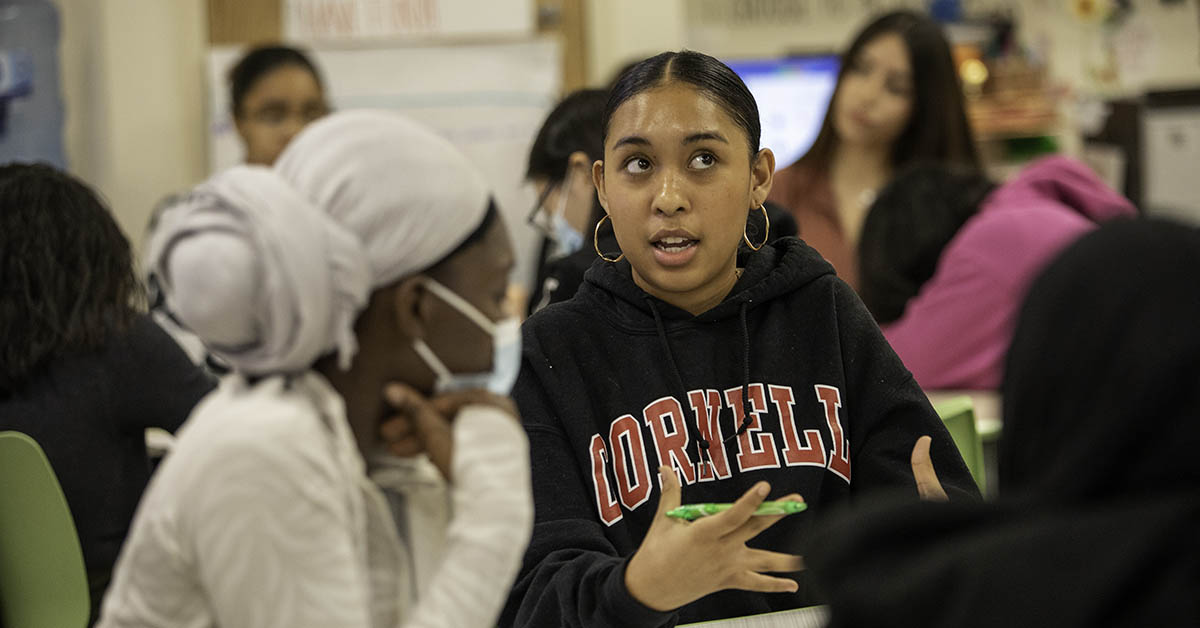 On a recent morning, 20 young women gathered around small tables to create business plans with big impact.
They were in the Girl Boss seminar at Central Park East High School, supported by the Elsevier Foundation's partnership with Girls Inc. of New York City. Over the next few months, these entrepreneurs will go on to form their companies; define their products; appoint CEOs and Chief Marketing Officers; and learn to analyze data that will help them understand their products and customers.
On this day, they were learning the principles of entrepreneurship — from what defines an entrepreneur to how to give a compelling "elevator pitch" by describing their products in the time it takes to ride the lift.
In their practice pitches, students described a flask that makes drinks any temperature you want. A "scrubber dubber" that removes tough stains and makes laundry "more efficient and sustainable." And a smart mirror that picks out an outfit for you in 5 seconds, taking into consideration the weather and how you will look.
The products were pretend, but their ambitions are real. The students we spoke with already have college and careers in mind, and they said the Girl Boss program is giving them the skills and support they need.
"This class is very empowering," said Joanni Rodriguez, a senior who hopes to study economics and entrepreneurship at Cornell University and go into business. "We're encouraging each other to do what we want to do, to aspire to become entrepreneurs, to aspire to become doctors — or anything. Because I feel like in the outside world, it's male-dominated in most of these fields."
Indeed, under-representation continues to be a reality in STEM, especially for women of color.
Though the curriculum is couched in an innovation and entrepreneurship module, these young women are learning to work with data — a critical 21st-century skill. The world of data science is growing, and there is a critical shortage of data scientists. Under-representation is also a big issue. Women hold just 26% of data science-related jobs, and minority women have an even less advantageous employment outlook, according to a 2021 report by the National Center for Women & Information Technology. In 2020, less than two in 10 women in the data workforce were minorities.
That's where Girls Inc. of New York City (GINYC) comes in. The nonprofit organization gives girls from underserved communities opportunities to learn life and STEM skills to prepare them for a wide range of educational paths and careers. Since 2019, the Elsevier Foundation has partnered with GINYC to develop a program delivering data analytics through a social justice lens, providing a total of $450,000 for summer camps and after-school programming.
---
Read the full article on Elsevier Connect: "Empowering 'girl bosses' with data, analytics — and community", Ylann Schemm and Alison Bert, 23 February 2023.