Elsevier Foundation sends kids and staff to hospital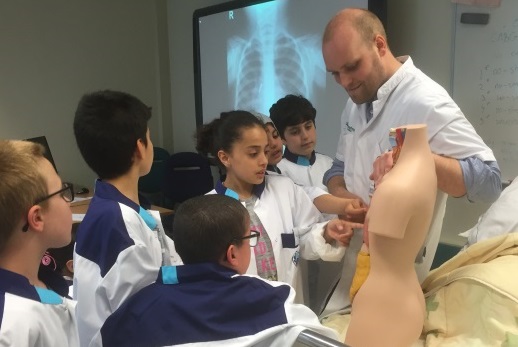 Have you ever seen an operation room from the inside? Or wanted to understand how a hospital works without actually being sick? On June 5th, eight Elsevier colleagues joined the IMC Weekend School and a group of 40 kids during a series of interactive hospital workshops with ultrasounds, MRI's emergency medicine, operating rooms and more. Our job was to assist the IMC Weekend School teachers and coach the kids during the different workshops.
Ylann Schemm, Program Director of the Elsevier Foundation who manages the partnership and joined the group noted, "In a nutshell, the IMC Weekend School program in Amsterdam is a collaboration between the Elsevier Foundation and RE Cares to support science and health education for kids from disadvantaged neighborhoods. As a working parent, it was also an extra bonus to be able to bring along my own 8 year old son to share in the learning. One of the highlights was the ultrasound the kids were able to give each other. I definitely recommend this as a volunteering and team building experience with Elsevier colleagues."
IMC Weekend School's philosophy is that education should nourish children's' natural curiosity, motivation and social responsibility. Through sustained collaboration with passionate professionals, students learn to understand their options in society, their preferences, the courage to pursue their talents, and the value of contributing positively to society.
The Elsevier Foundation, RE Cares and the IMC Weekend School Partnership
In 2015, the Elsevier Foundation established a 4 year partnership with The IMC Weekend School providing funding to support science and health programming across 3 Amsterdam locations. IMC targets 10 – 14 year olds in underserved Amsterdam communities and offers them inspiring workshops in hospitals and university science labs.  The Elsevier Foundation and RE Cares are looking for Elsevier colleagues to help out with the science and health excursions for a few hours during a series of Sundays throughout the year. You don't need to be a Dutch speaker to join.